Winstars News
United Soccer Coaches

FC DALLAS Showcase March 2018





Our academy will be attending the FC Dallas Showcase in Frisco, Texas March 2 – 4, 2018

All information to follow
Deposit: $1250.00 Due Now
Full Cost: $2500.00

Showcase 2017 - December 14 & 15


COACHES CAN REGISTER HERE



Bobby Clark - Head Coach at Notre Dame Retires


http://www.und.com/sports/m-soccer/spec-rel/112817aao.html
All of us at our soccer academy wish Head Coach at Notre Dame the very best in his retirement. Meeting Coach Clark, fellow Scot at the Bethesda Tournament in Maryland – 1986 and have been a friend ever since.  A Legend in Scotland as Goalkeeper with Aberdeen FC. and done one amazing job at Dartmouth College, Stanford University and University of Notre Dame.  He has been most successful as a NCAA Division 1 Coach and is a fine ambassador for Collegiate Soccer in the USA sending many players to the Professional game.
More important to me is the person, so special and so much passion for the game and you just always want to be in his company as you learn so much as well as he lights you up and motivates you about the game.  Had one of my Players at Dartmouth in his first recruiting class – Danny Sankar who is most successful for the journey and learning from Coach Clark.  I had the pleasure with our academy to spend a couple of days at Notre Dame with our academy and present him with a plaque for his dedication and commitment to the game.
He certainly will be missed, however we wish him the very best in his retirement with his Wife Bette and his wonderful Family and Grandchildren.
Bobby Graham – Academy Director     

Click on Picture for video
Winstars Showcase Banquet Wednesday December 13, 2017



1 Ticket - $100.00
2 Tickets - $200.00
3 Tickets - $300.00
10 Tickets - $1000.00
We ask each of our families to purchase 3 tickets to support our showcase
Showcase Banquet Tickets Wednesday December 13, 2017
Dinner Banquet will be held Wednesday December 13, 2017 at
Chateau Le Jardin - 8440 Highway 27, Woodbridge, ON L4L 1A5
For Directions & Map Click Here
Our Match vs. Philadelphia Union Academy Team
Sunday October 15th – our match vs. Philadelphia Union Academy
Was a great day and match as you can see for yourself, as our academy takes on the Union Academy.
Both teams together after the game on Saturday October 14th (Click on image to enlarge)
Bobby Graham – Academy Director


Congratulations to our academy Player Joey Bellotti



Our Academy Player Joey Bellotti, who is a member of IMG Academy scored two goals for his Team to beat the top team in their League by a score of 2-1. All of us at Winstars are happy for Joey as he looks forward to earning a University Scholarship at a top University with an excellent soccer program.

We all look forward to him coming home at Christmas. Last year Joey was selected out of players from all over North America to go to Italy and represent an All Star Team play at the Italian National Training Center as well as watch the National Team play a game.

What a wonderful experience for Joey, as well IMG is a very well recognized academy for sport and education, located in Florida.
Best wishes for rest of the season to Joey and his Team
Bobby Graham – Academy Director

Click on Picture
https://twitter.com/WinstarsSoccerA
A nice Testimonial by our former Academy player Ethan Vigario – now on Full Scholarship at St. Francis University – Ft. Wayne





Hello, I am Ethan Vigario, a former player of Bobby Graham. What I have to say is straight forward, easy to comprehend and to the point. If you are looking to get to a college on scholarship and if it is a serious dream / goal of yours then I recommend going nowhere else other than Winstars.
Not only does Bobby and all the coaching staff provide a professional training environment for significant development, but they also treat you like they son. It is a family like no other and definitely stands out from the rest. Bobby likes great footballers, but also great people and that's why you don't see 1000 kids in his academy, you only see. Around 40. This is because to him it isn't about the money, he cares about you and your future.
I hope you end up taking up this opportunity, regardless of how far or close you live. I traveled 2 hours to get to training and Bobby and the academy made it more than worth it. You can shoot me an email if you have any further questions regarding any of this.

Ethan Vigario.
WELCOME TO THE HOME OF THE #1 SPORTS FACILITY IN VAUGHAN





Trio Sportsplex is our training center for another year. We are very happy to continue or training at this facility, located close to the highway 400 in Vaughan, easy access from all areas.
Training starting in October
Tuesday evenings 9pm – 10:30pm – Starting Tuesday October 12th
Saturday afternoons 6pm – 8pm – Starting Saturday October 21st
Sunday afternoons 6pm – 8pm – Starting Sunday October 22nd
Our Showcase Tournament will also be held at this facility.
601 CITYVIEW BLVD.VAUGHAN, ON L4H 0T1
https://www.bing.com/search?q=map+to+trio+sportsplex+vaughan&FORM=AWRE
Practical nutritional recovery strategies for elite soccer players



Practical nutritional recovery strategies for elite soccer players when limited time separates repeated matches
https://jissn.biomedcentral.com/articles/10.1186/s12970-017-0193-8
NCAA DIVISION 1 RANKINGS
http://www.ncaa.com/rankings/soccer-men/d1
Boys Collegiate Showcase 2017


Team registration for invited Teams to participate in our Showcase 2017

December 14 & 15, 2017
Fee Per team $2500.00
The charge for the showcase tournament is $2500
3 full games – 2 x 40 minute halves and it is
a 9v9 showcase tournament



Winstars Soccer Academy Roster for our Summer Tour
1. Evan Zizek
2. Dylan Falconer
3. Peter Andreakos
4. Nathaniel minott
5. Daniel Luccisano
6. Arian Mehrang
7. Noah Hodson
8. Ben Williams
9. Anthony LaRosa
10. Nico Tallarico
11. Jovin Grewal
12. Jas Dhaliwal
13. Nick Rallis
14. Matthew Villarroel
15. Edwing Schneider
16. Aaron Sant
17. George Charalampopoulos
18. Riley McLeaming
19. Josh Grewal
22. Josh Pedretti
BIG THANK YOU TO ALL OF OUR PLAYERS AND
STAFF / BUS COMPANY AND WEBMASTER



A big thank you to everyone who made our summer tour 2017 a great success. Getting to play in great facilities and 5 games in 7 days and then ending our tour at Notre Dame was just amazing. Spending a couple of days at South Bend in the company of a Legend Bobby Clark Notre Dame Head Coach, you just learn so much about everything you could ask for in a Professional Coach and myself, my coaches and my staff and all of my academy players come home and ready to continue to keep ...working hard on the soccer field and in the classroom.

Academics are so important of a student athlete and I am proud to say our boys have great academics and conducted themselves in the most professional way on and off the park.

Discipline is so important in making it to the top. We tried to play the right way every day and the effort we received from all our boys was 100% Excited to get back at it tomorrow.

Thank you big time to everyone who supported our initiative, too many to mention. Look forward to a great Fall Season.

Regardless if injured or healthy, we need all Players to be in attendance at all training from now on.

Sincerely,
Bobby Graham,
Academy Director

EVERY DAY IS AN OPPORTUNITY AND KNOW YOU MUST DELIVER


Message to Our Players:
No one gets handed anything in this game.

No matter how talented you are. The most you can ask for is an opportunity. Then it's up to ...you to take advantage of it. How much time have you spent honing your skills and working on your game? How much have you sacrificed?

Enough to make an impact at a high level? Okay. Then show everyone. Then if you do deliver make sure you're aware that the level of expectation goes up with all the praise, and it's your responsibility to grow with it. Physically and mentally. That's what separates the great from the average. And that's why they stay at the top. Every day is an opportunity and every day they know they must deliver.
Winstars vs. FC United – at Wish Field – De Paul University Chicago - Saturday August 19, 2017
Winstars vs. FC United – at Wish Field - De Paul University Chicago - Saturday August 19, 2017 - Part 1 of 4
Winstars vs. FC United – at Wish Field - De Paul University Chicago - Saturday August 19, 2017 - Part 2 of 4
Winstars vs. FC United – at Wish Field - De Paul University Chicago - Saturday August 19, 2017 - Part 3 of 4
Winstars vs. FC United – at Wish Field - De Paul University Chicago - Saturday August 19, 2017 - Part 4 of 4
Tryouts for our Academy


Past Players of Coach Graham
http://www.winstarssoccer.com/win_players.htm
if you are looking for an academy that has a proven track record in development and placement of Elite Soccer Players who have grades and are serious about school.
Summer Tour August 2017


Our Team and FC United Team together for a picture after the match (Click to Enlarge)
FC United Coaches and their Academy Director Jamie Smith fellow Scot and former Glasgow Celtic Player

Importance of having a Strength and Conditioning Coach


Our Academy has made the investment to having a full time strength and conditioning Coach, Joe Vecchoine, he will bring a professional approach to warming up prior to games and practices as well as cooling down, as well as help our athletes work on strength, speed and power, all very important to help our athletes to get to the next level of play. See below

Strength & Conditioning

As an academy, we are dedicated to developing our athletes in preparation for the next level. Our strength & conditioning coach, Joseph Vecchione, works with our athletes to develop the physical qualities (i.e.. Strength, power, speed, endurance) that a young player needs to make the step to the next level.
We integrate strength & conditioning into every practice, starting with warm ups
and ending with cool downs. By doing so, we can work to improve the physical attributes (strength, speed, power) that build well rounded and robust soccer players. We also conduct monthly testing batteries to monitor our player's progression and provide informed programming.
In addition to on-field training, Joseph hosts drop-in group workouts for our boys at his garage gym on Tuesdays @6:30, Wednesdays @6, and Sundays @11. For our athletes who would like to join a drop-in session, or book semi-private training sessions with Joe, please contact him via e-mail – coachvecchione@gmail.com

Joseph Vecchione Bio


Joseph is a Certified Strength & Conditioning Specialist (CSCS) with the National Strength & Conditioning Association. He studied Kinesiology at the University of Guelph-Humber, where he performed concurrent training research on endurance athletes, looking to minimize the interference effect (IE). Studying the fine balance of strength/power training and endurance training to minimize the IE of a program's desired adaptations is critical to the successful programming of soccer players and athletes.
During his 5 years of coaching experience, Joseph has worked with hundreds of athletes at all levels; grassroots, high school, university, national and Olympic. Joseph had his athletic career cut short by 2 ACL reconstructive surgeries as a young soccer player, which has sparked a relentless drive to physically prepare athletes to be resilient and dominate in their field of play.
Joseph has worked in many settings, including the Canadian Sport Institute of Ontario, the Toronto Pan Am Sports Centre, and the University of Toronto.
SAT WORKSHOP WILL START AFTER SUMMER TOUR

I highly recommend any of our academy student athletes take the test with Dan Sankar, it is a 12 hour course that would cost more if done with another company or individual. All our funds received are given to Dan, we do not keep anything as we want our players to succeed. I highly recommend that you register/register your Son if he is in grade 10 or 11/12. The next test date is October 7 and the final date to register with the SAT College board is September 8.
https://sat.collegeboard.org/SAT/next-steps-toward-college
The SAT Test – Date of Test October 7th register by September 8
Date of Test – November 4 register by October 5
Date of Test – December 2 register by November 2
Please register online as that is the best way and we will start on the Sunday after the Labor Day weekend.
WINSTARS SAT WORKSHOP
WHERE: Winstars Academy Office
WHEN: starting after the tour / will be prior to or after our training sessions on Sundays
COST: $400
SAT Prep Course
Complete SAT Prep Course
Cost per player: $400
INSTRUCTOR: Dan Sankar (416) 575-6958
CLASS RESOURCES (bring to each class)
SAT Preparatory Book (will advise which book to purchase, not needed for the first class)
Scientific Calculator
Dictionary
Workbook/Paper, Pens, Pencils, Erasers
ABOUT THE SAT: The Scholastic Aptitude Test (SAT) is a standardized test required for admission to all U.S. colleges and universities. The SAT evaluates the student's knowledge in the areas of writing, critical reading and mathematics. The SAT helps universities compare students from different parts of the country and the world with one standardized measure. In addition to the student's school marks, extra-curricular activities and admissions essay, SAT results play a crucial role in the admissions process.
STUDENTS WILL:
* Learn important study techniques and concepts for the three sections of the SAT.
* Learn general study and test preparation skills.
* Do many practice questions and essays and be provided with ongoing evaluation and feedback.
* Do vocabulary building exercises with the purpose of applying these to actual SAT questions.
* Do timed test sections in the areas of critical reading, writing and mathematics
ABOUT THE INSTRUCTOR:
* 20+ years of experience as SAT and High School Mathematics Instructor
* B.A. (Psychology), M.A. (Sports Psychology), M.Ed. (Counselling Psychology)
* Player for Dartmouth College, NCAA Division 1, All-American, All-Ivy
Sat Testing Dates 2017-18
Catching Up With Daniel Festa - Manhattan College Graduate


Catching Up With Daniel Festa
Courtesy: Manhattan Athletic Department
Release: 07/13/2017

Riverdale, NY - With this year being the 50th anniversary of the Manhattan Men's Soccer team we will be checking in with different alumni throughout the season to see how the program has impacted their lives.
Our second former Jasper is Daniel Festa '14.
What does being a member of the Manhattan Soccer family mean to you?
"Being a part of the Manhattan Soccer family means that I have brothers from all over the world and that Gaelic Park will always be our home field. It means staying connected with friends and supporting the program to attract future talent that will enable it to continually grow stronger."
What has Manhattan Soccer taught you?
"During my time with the program, I learned the values of working hard and how to persevere even against low odds. Additionally, the program has afforded me the right to spend time with people from different parts of the world. This has in turn taught me the importance of effective communication in a global marketplace."
What are you doing now?
"I am currently working for Morgan Stanley in Fund Services. I deal with hedge funds and their investors on inflows, outflows, transfers or capital and also reporting and distribution of information pertinent to their investments."
6 Expectations On the Road to Success


When I arrived in Tampa as head coach, I began meeting with the players who lived there, trying to understand from them what needed to be fixed. Although all the issues were relatively minor, they contributed to the team's second class, defeatist, excuse-laden mentality. I began to sell the philosophy that we are responsible for what happens to us, not anyone or anything else. No excuses, no explanations.
At a team meeting, I ran through a laundry list of excuses our players could easily hang a poor season on if they chose to: We have a new coach staff. We have to learn a new system on both offense and defense. We have sub-par facilities. We have a young quarterback. We never get the benefit of the doubt from officials. We might move cities. Those were all great excuses, and we could have used all of them. However, our goal was to win and excuses weren't an option. Have you been using excuses lately? Here are 6 expectations I communicated to my team on the road to success.
1. Be a pro.
2. Act like a champion.
3. Respond to adversity; don't react.
4. Be on time. Being late means either it's not important to you or you can't be relied upon.
5. Execute. Do what you're supposed to do when you're supposed to do it. Not almost. All the way. Not most of the time. All of the time.
6. Take ownership.
Is this how you approach your marriage? Your role as a dad? Your job?  Whatever it takes. No excuses, no explanations.
http://www.allprodad.com/dungy/6-expectations-on-the-road-to-success/
Bobby Clark: Shaping minds, not just professionals, at Notre Dame
https://www.fourfourtwo.com/us/features/bobby-clark-notre-dame-soccer-coaching-legend-ncaa#dASJFO7cXPrwYeoj.99
The Secret by Dani Alves - You really need to read this article
https://www.theplayerstribune.com/dani-alves-juventus-the-secret/?utm_content=bufferdc8f9&utm_medium=social&utm_source=twitter.com&utm_campaign=buffer
How to Improve Stamina for Soccer

Check out all our best drills, gym workouts and articles on how to improve stamina for soccer
https://www.fourfourtwo.com/performance/training/how-improve-stamina-football
Our Goalkeeping Department
Goalkeepers are the most important player in a Team, at our academy we have an excellent Coach Roberto Carranza who specializes and trains our goalkeepers three times a week. We invest much time, effort and finances into our goalkeeping and have had much success in the past with Goalkeepers who went on to the next level.
Past Goalkeepers Coached by Academy Director Bobby Graham
Peter Pappas Philadelphia University and Professional with Philadelphia Kixx
Loukas Papaconstantinou University of Alabama at Birmingham (UAB) Now a Dentist
Jaro Zawislan – Clemson University - Former Head Coach at Cornell University – Men's Team
Thomas Zawislan – Creighton University
David Clemente – University of Alabama at Birmingham (UAB)
Raj Wakhale – Hartwick College
Melford (Junior James) – University of Alabama at Birmingham (UAB)
Robert Marinaro – Clemson University – Now Head Coach of Kent State University (Women's Team)
Rasih Pala – Northern Illinois University
Jay Mason – University of the Incarnate World - Now Head Coach of Cal Poly (Women's Team)
Phillip Cavicchia – Appalachian State University
Chris Skelton – Niagara University
Dennis Kramer – Southern Polytechnic State University
Jamie Englefield – Winthrop University
Domenic Spedaliere – Eckerd University
Spyros Sergiotis – Wilmington University
Adriano Debreau – Western Michigan University
Matthew Zaikos – Urbana University
Zachery Zeke – Adrian University
Jordan Sedhi – Seton Hill University
Christian Brunet – Lewis University
Nicholas Luciani – Culver Stockton University
Karman Saini – Swedish First Division Husqvarna FF
Adidas is now our official Clothing Supplier of our Soccer Academy
Some of the sports apparel each Academy player will receive
WINSTARS ACADEMY SUPPLIER
Student-Athlete NCAA Resources


Links

NCAA Eligibility Center *Formerly known as 'Clearinghouse' and is required for all Division I and Division II athletes
The College Board *SAT Registration, College Search Tool, Scholarship Searching Tool
20 Questions to see where you should go to school

Choosing a college isn't a four-year decision; it's a 40-year decision. From campus to classes, academics to culture, there's a lot to consider. And, often, students don't even know what they want in a college experience. To help your student-athlete better understand their best college match, you can start by asking them the right questions. In this article, we provide 20 questions to gauge academic and cultural fit.
We are not covering questions for determining athletic fit, as that is an entire topic in itself. These questions can help you start a list of potential colleges, and you can add athletic fit to whittle down your choices.
Remember: You're trying to figure out what your student wants in a school, not what you as a parent want for them. A lot of parents will frame questions by giving an obvious bias to one answer. For example, "Do you want to just be another number in a class with 500 kids in it?" Instead, phrase questions so your student-athlete can share what they really think.
It might be tempting to try grinding through all 20 questions at once. But, you'll likely get a lot of eye rolls and, "Ugh, I don't know!" responses. Instead, ask a couple questions at a time and keep track of the answers in a notebook. That way, you can refer back when you need to.
Ask these 20 questions to see where your student should go to school.
Academics. To parents, academics may be the most important aspect of determining best college match. For high school students, academics may be the first thing they push to the side. These questions help narrow down schools where your student would thrive academically.
1. What do you want to major in?
2. Would you be willing to adjust your major?
3. Do you want to be taught by full-time professors or graduate students?
4. Which type of classes do you prefer: lecture style or discussion style?
5. Will your major require an internship?
6. Do you want to take classes that interest you or would you like to stick to your major?
7. Is the prestige/reputation of the college important to you?
8. Do you fulfill the academic requirements to be accepted?
Culture. When students go to college, most of them will be living on their own for the first time. They need to feel at home in their university, surrounded by students who they can connect with. Campus culture refers to the type of students at the campus, the location, physical attributes of the campus and what stands out in the student body.
9. Are you more interested in a social campus, a commuter campus (where students tend to go home on the weekends) or a quiet campus?
10. How far away from home would you like to be?
11. Would you prefer to go to a school where you already know a lot of people?
12. What are your weather-related deal breakers?
13. Do need a lot of green space?
14. Do you prefer to be in a large city?
15. Would you like a religious university?
16. What kinds of extracurricular or social activities are you interested in?
17. Do you want to be surrounded by people who share your viewpoint?
18. Do you want a diverse environment?
19. Do you like seeing people you know around campus every day?
20. What specific experiences do you want to have in college (e.g., studying abroad)?
Bonus: 5 financial questions for parents
College is a huge investment. As a parent, you need to be realistic about what colleges are feasible from a financial standpoint. Ask yourself these questions to make sure you—and your student—know where things stand financially.
1. How much are you willing to pay for college and how much responsibility will fall on your student?
2. Does your student qualify for any scholarships or financial aid?
3. Will your student be supporting themselves while at college? Is the college town's cost of living realistic?
4. Will your student need to participate in a work-study program or similar arrangement to help cover the cost of tuition?
5. Are you and/or your student willing to take out college loans? How much?

Winstars Soccer Academy - Honouring our Senior Academy Players – Annual Banquet


Our Annual Banquet was amazing, with a full hall of over 200 people in attendance, we honoured our senior academy players with a nice award as a token of appreciation for their outstanding commitment. Chateau Le Jardin provided us one amazing meal and we had former academy player and current professional player Milovan Kapor in attendance to help present the awards as well as Gino Rosati, City of Vaughan Regional Councillor.


Many people, former players and supporters purchased tickets and could not be in attendance, however wanted to support our academy and our initiatives and goals of helping elite soccer players reach the next level of play as well as earn an education at the same time.
Exciting event and we would like to wish all our senior academy players all the very best as they enter the next chapter of their lives and hope their experience at our academy was positive and they have become better players and better people in the times we shared together.
Thank you to everyone for making our event a fantastic success.
Bobby Graham – Academy Director

How to be a Professional Footballer



Testimonial from Barry Gorman, Former Technical Director, FC Dallas and Penn State University Coach
Bobby Graham is, without doubt, one of the foremost pre-eminent youth soccer ambassadors Ontario has produced. His commitment to the development of youth soccer in Canada is second to none. I can think of no one, in America or Canada, who has assisted more players in progressing to the Collegiate and Professional ranks.
For over 25 years, Bobby Graham has provided numerous, incredible opportunities for countless Canadian youngsters to showcase their talents at the best soccer events throughout the USA. The sheer number of former players who can trace their academic-athletic opportunities back to Bobby Graham run organizations is testimony to the man's "Midas" touch. The truly remarkable success rate his programs have achieved throughout the years, both on and off the field, is an indication of the excellent high standards he expects, creates and maintains.
The Winstars Soccer Academy is an outgrowth of that desire for excellence. It is a professionally run organization where it is clearly evident, "they are on the right track and have 'bottled' something special." On the coaching side, they are extremely well organized while constantly preparing and coaching players in a meaningful, competitive environment. On the academic side they are, in my mind, the leading source for soccer scholarship information and advice in Canada.
In my former role, as the Head Coach of Penn State University Men's Soccer Program for 22 years, I got to know Bobby Graham very well and am delighted to count on him as a valued and trusted friend. We share a similar vision of the "beautiful game," but more importantly, a strong core value in how best to monitor the growth and development of aspiring young soccer players.
Without question, I would recommend the Winstars Soccer Academy to any serious student-athletes and their parents as a worthwhile, positive career/life changing investment. I look forward to continuing to stay in touch with Bobby Graham and enhancing my professional relationship with the Winstars Soccer Academy.
Barry Gorman
Technical Director – FC Dallas
Former Head Coach Men's Soccer – Penn State University


NSCAA Past President
Champions are Made Here - Video
6 FACTS YOUR PLAYER MUST KNOW IF HE WANTS TO BE PRO



http://www.knowhowsoccer.com/6-facts-your-player-must-know-if-he-wants-to-be-pro/
Success doesn't happen as an accident. It is hard work, sacrifice, ups and downs, determination, motivation, but, most of all, love for the game and love doing your job.
Training is a process. It consists several main components:
1. periodization,
2. preparation,
3. organization,
4. dedication,
5. consistency.
All main factors, joined together, create entirety when you're making professionally organized plan with long and short term objectives.
While you're preparing your training program always consider:

CONTINUATION
→ the connection between the sessions – so the transition from one day to another, and one week to another, is gradually developed.

PROGRESSING
→ building up challenges and training loads in coming sessions.

CONTROLLING
→ using these methods you are constantly controlling your players but laying on their effort and making them naturally building up their performance. Each subsequent training is an upgrade to the previous work so it must be proposed on a higher level than the previous one.
Playing the highest level isn't for everybody, and that's what makes it so special. Only the ones who made it know what kind of commitment to soccer training takes to get there. With that in hart, there are few facts your player should have in mind if his dream is to become a pro.
1. THE DIFFERENCE BETWEEN THE AVERAGE AND THE GREAT PLAYER
In the modern game, at any level, soccer training and conditioning is essential. What makes the main difference between the great soccer player from the average one is their ability to do 'that something extra', something special during the match: dribble few players on the run in dying minutes of the game, precisely cross the ball to a teammate who is on the run passing the defender, clear the ball from the opponent in a counterattack action…'that something extra'.
2. YOU CAN NEVER RETURN THE LOST GAME OR THE LOST TRAINING
If you commit yourself, make it count. Keep the consistency and persistence in training, attending every practice without any excuse. There are many factors that can distract you from the training, but you must know that every practice will make you better than before.
3. PLAYER HAS TO BE CAPABLE TO PLAY 10 OR 120 MINUTES
You are training hard to be fit and in your best shape for the match. You must be prepared at any moment coach decides to put you in a team. It can be full match or part of the game. Coach will decide to play you depending on his vision, situation on the pitch, including tactical variation or injuries.
4. TRAININGS ARE HARDER THAN THE MATCH
Many times coaches propose physically demanding practices. The purpose is to be prepared to the last minute of the game playing in high tempo, not losing rhythm or level of performance. Hard work in training is guarantying lightness and ease during the game.
5. WORK HARD DURING PRACTICE AND HAVE FUN DURING THE MATCH
If you did your job well during training, you don't need to worry about the coming game. If you're prepared well, you will be fully focused only on your best performance and team's effort during the game.
Physically fit players are confident, motivated, in control of their potential having variety of options to choose.
6. IF YOU GIVE YOUR MAXIMUM DURING THE GAME, YOU WILL SLEEP CALMLY NO MATTER IF YOU LOSE OR WIN
After every match, player should analyse his own performance and where he stands. What is needed to work on to improve and what should be polished and mastered till the automatism. But one is definite, put your maximum effort because that is what is expected from you. Level of your performance depends on your preparation.
Becoming a good player takes a lot of time, hard work, and practice, especially. Be honest to yourself and set standards you wish to achieve. At the end, the price will be huge. Satisfaction, joy and respect are just a few of them.
→ Preparation prevents poor performance.
Arsene Wenger, How To Build a Footballer


When a manager of the calibre of Arsene Wenger takes time to tell you the key to becoming a truly great player like Cesc Fabregas, you listen. See what the great man had to say on commitment and the desire to improve.
https://www.youtube.com/watch?v=8G8E01bn7J4
Harvard's Ferguson formula for success

http://www.bbc.com/sport/0/football/34356242
SIR ALEX ON THE IMPORTANCE OF DISCIPLINE



Tryouts for our Elite Soccer Academy
We are only interested in very talented players as well as students with good grades and a passion and desire for the game of soccer and also to play soccer at the next level. NCAA Collegiate Soccer. Looking for a few players as we are close to full for the fall and winter season. Only serious student athletes and soccer players communicate.
Showcase our Players at the best events in USA/Canada and Europe
Professional Staff with a proven track record of success both with development and winning
The number 1 Academy in Canada for athletic scholarships at NCAA Universities
Meaningful training in a quality environment / more significant games
Academy Director has now sent over 350 players to the USA on athletic scholarship/unparalleled
Talent ID criteria centered around the players ability to control the ball
Academy Director – Bobby Graham
www.winstarssoccer.com




The Route to a Dream
Harvard
2015 Summer Tour
Checkout our past summer tour –so it will give you an
idea on what we do besides the soccer, we visit the
schools, meet the coaches, tour the campus.




NCAA Division 1 College Coach Contact Information

Click Here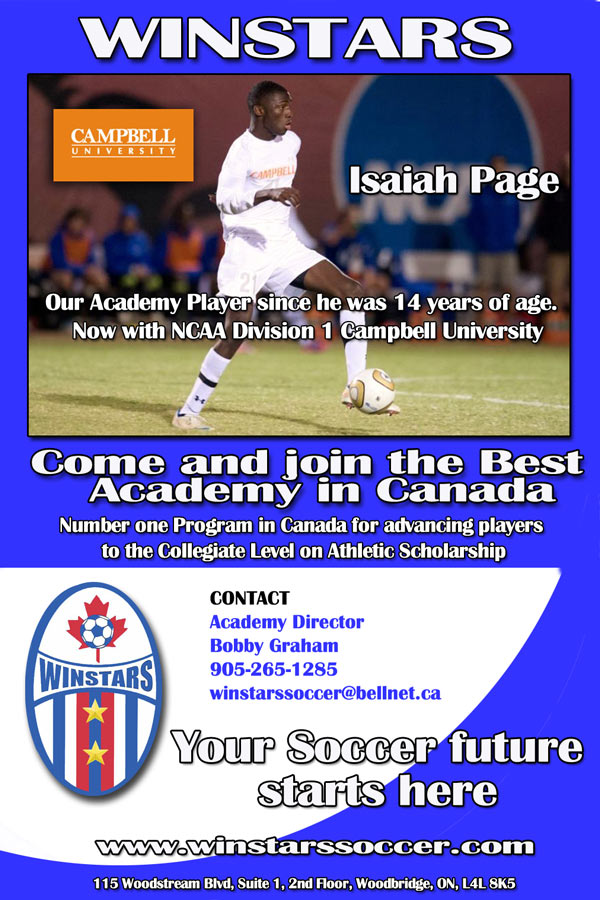 Canadian Dynasty of International Proportions
Article by Nicholas Spiller
Published: August 20, 2014
Most youth soccer players share a common goal as they grow into their late teenage years: They want an opportunity to keep playing the sport in college and beyond! While numerous soccer teams and programs are aimed at helping players achieve those dreams, few organizations consistently get their players to live that goal.
Hardly any places in Canada develop players as well as the Winstars Soccer Academy, which has successfully placed over 300 players into colleges across Canada and the U.S. There, they have been able to learn the game and receive a great education as well.
The Winstars Soccer Academy is led by the brilliant soccer mind of Bobby Graham, who has over 30 years of coaching experience in the sport. The focus of his program is geared toward helping players learn the technical skills required to play soccer at the highest level. While most teams focus on athleticism and running, Winstars understands the importance of working well on the ball and as a team.
The Academy also harnesses a relatively hands-off approach to gameplay. Bringing in the right group of players is key, and with this mindset players are given freedom to play and have the trust of coaches to best utilize their skills.
Additionally, Winstars Soccer Academy benefits from being the most successful and proven club in Ontario for several decades. Coaches across North America are familiar with the team and these relationships are very beneficial to aiding young players in the recruitment process for college teams. The team takes part in many travel excursions for prestigious tournaments or to various colleges. A current tour in August 2014 will see the squad visit universities like Princeton, the University of Pennsylvania, and James Madison University.
The Winstars has been the most successful Canadian Club program ever to compete at the prestigious Dallas Cup. Bobby Graham teams have competed in the Super Group for many years, playing against the likes of AC Milan, Boca Juniors, Tottenham Hotspurs, Moscow Dynamo, Benfica and International of Brazil as well as the best the USA had to offer, Dallas Texans, Chicago Magic, etc.
Additionally, numerous college scouts and coaches love to attend tournaments like the 10th annual Collegiate Boys Showcase, set to be held this December. Such exposure gives players every opportunity to catch the eye of a specific college coach or recruiter. But at its core, the reason such chances come about is due to the competitiveness and quality of the Winstars Soccer Academy, which prepares players for college and professional soccer like no other club in Canada.
While hundreds of players have earned placements to various colleges, some have even been able to play soccer professionally! One such player is Dejan Jakovic, who not only featured for UAB, but also went on to star as a defender for D.C. United and currently plays abroad in the J-League. Dejan was one of 20 players from Bobby Graham teams that went on to play for Head Coach Mike Getman at UAB, and they have been a top 25 NCAA Division 1 program for many years.
As stated by Barry Gorman, former Penn State head coach and technical director of FC Dallas, "Without question, I would recommend the Winstars Soccer Academy to any serious student-athletes and their parents as a worthwhile, positive/life changing investment."
Winstars Soccer Academy isn't just another soccer club to play during your teenage years; it is a vessel to propel your future as a soccer player! Available to boys aged 12-18, this is Canada's finest youth soccer program and gets players opportunities to continue the sport in college year after year!
See article
Daniel Festa
Daniel Festa, a past Winstars Academy player, has recently Graduated in Economics and Finance, from Manhattan College, in Riverdale, New York! Keep up the Great Work Daniel!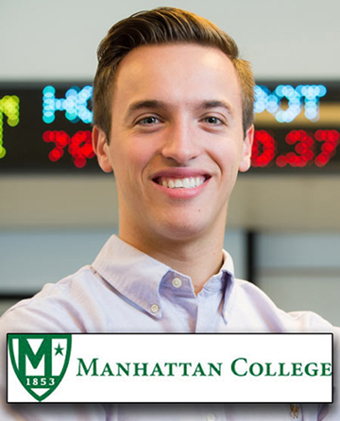 Our News section is constantly changing! We work hard behind the scenes to create as many opportunities as possible for our players.