Winstars News

Tuesday July 16 – 9pm – 11pm
Thursday July 18 9pm – 11pm
Saturday July 20 – 1pm – 3pm
Sunday July 21 – 1pm – 3pm
Players who are driven - It's not a sacrifice


For players who are that driven, it's not a sacrifice
These days, a player needs to decide by the time they're fourteen or fifteen or even earlier if they want to be in this professional environment. That means giving up other sports. And they need to want to give that up. For players who are that driven, it's not a sacrifice. They give it up willingly. The end goal might be the national team call up, but if that doesn't happen, there are so many other benefits. They challenged themselves against the best in the country. They'll be able to take that into their adult lives. Ninety-nine percent aren't going to be pro. It's true. If you want to go pro, that is not likely college any more. College soccer is a great path for so many of them.
6 Key qualities of a national team player
SN: When you're watching a game, what stands out most to you? What would a player do that merits a "report?"
SB: There are six key qualities of a national team player. When we identify a player as a candidate, we rate them on all of those qualities. Those ratings go in our report on that player, with additional notes, too.
#1: Game awareness and decision making
SB: The main thing we look at is game awareness and decision making. Are their eyes up when they receive the ball? Do they analyze the field for positions of players and spaces to exploit? Are they looking around before they get the ball? If they trap the ball and then they're looking around, it's too late. I pay attention to players that draw my attention in a good way. I'll start looking at them when they have the ball and when they don't have the ball. What they do during transition moments is also very important. The game is so fast at the international level. You have to be able to transition from defending to attacking in a split second, or the game has passed you.
#2: Initiative
SB: The next quality is initiative. Does the player show initiative? Are they trying to be the player that makes a difference in the game? When they make a mistake, do they fight to get the ball back?
#3 Focus
SB: A player with great focus plays to win, is composed in behavior, enhances the team by executing his tasks.
#4: Optimal Technical skill
SB: Another key quality is technical skill. This must be at a high level.
SN: How do you define "technical skill?" People like you, at the highest levels of US Soccer, have your own language. Players and parents may not know these terms and really understand what you mean when you say "technical skill."
SB: That's a good point. We do have a shared and common language around the high-level soccer world. When we say "technical skill," we mean ability to be effective in all situations and to be creative under pressure. "Ball skills" is rather vague. How are they with the ball at their feet? Dribbling. Speed. Changing direction with the ball. Finishing ability. Receiving the ball. Being able to weight their first touch, second touch, and their passes in the right way for that specific situation.
#5: Optimal Physical Ability
SB: Physical strength, or physical ability, is another key quality. We know that kids mature and hit puberty at different ages. This is why keeping reports over the years is so important. We can track these players as they move through their physical growth and how they handle it.
#6: Responsibility
SN: What's the sixth quality?
SB: Responsibility. Do they contribute to their own development? Does a player take it upon himself for their own growth?
SN: How do you see that as a scout watching a player during a game?
SB: It's difficult, but there are clues. Let's say the game stops for an injury and play stops. The coach may say, "OK guys, bring it in. Come closer so I can talk to you." One kid is stretching or not paying attention at all. Another player is, like, all ears & eyes on the coach. He's obviously thinking, "The coach is giving us information right now that we can use to help us with our game and can help me be a better player." A lot more of this happens at Talent ID centers. These players train all day with coaches and scouts. When the day is over, I bring in each kid in for a meeting at the end of the day. Were they paying attention? Or were they not? Do they care enough about their own improvement to really listen to me?
OUR GOALKEEPING PROGRAM IS SHININING - WE HAVE A GREAT GOALKKEPER COACH


Our Goalkeeping Program – Led by Roberto Carranza


Our Goalkeeping Program is first class and led by a fantastic Goalkeeper Coach Roberto Carranza. Having been Coaching now for many years, Roberto is excellent, very organized, attention to detail, every session is different and has a purpose, great at progression in training. Proven track record as his work is showing in leaps and bounds.  Jas Dhaliwal is now playing amazing at Rogers State University, Evan Zizek will be an impact goalkeeper one year from now and his work is showing as he has been a standout for us at recent matches vs. two NCAA D1 Teams as well as FC Dallas Showcase and PDA Showcase.  Two of our other goalkeepers Bernardo Alvarado and Matthew Dadd are moving on to the Collegiate Level.
We now have 4 Goalkeepers in our academy program and they are all doing so well. Evan Zizek, Alessandro Manno, Tony Blunt and Arshdeep Virk
Goalkeepers are the most important player on the field and at our academy we have the best Goalkeeper Coach in Canada Roberto Carranza who specializes and trains our goalkeepers three times a week. We invest much time and effort and finances into our goalkeepers and with Roberto at the helm we have had much success and the future looks so bright for our Goalkeepers of the Future !


Past Goalkeepers Coached by Academy Director Bobby Graham

1.  Peter Pappas Philadelphia University and Professional with Philadelphia Kixx
2.  Loukas Papaconstantinou University of Alabama at Birmingham (UAB) Now a Dentist
3. Jaro Zawislan – Clemson University - Former Head Coach at Cornell University – Men's Team
4. Thomas Zawislan – Creighton University
5.  David Clemente – University of Alabama at Birmingham (UAB)
6.  Raj Wakhale – Hartwick College
7.  Melford (Junior James) – University of Alabama at Birmingham (UAB) / Univ of Montevallo
8.  Robert Marinaro – Clemson Univ – Now Head Coach of Kent State University (Women's Team)
9.  Rasih Pala – Northern Illinois University
10. Jay Mason – University of the Incarnate World - Now Head Coach of Cal Poly (Women's Team)
11. Phillip Cavicchia – Appalachian State University
12. Chris Skelton – Niagara University
13. Dennis Kramer – Southern Polytechnic State University
14. Jamie Englefield – Winthrop University
15. Domenic Spedaliere – Eckerd University
16. Spyros Sergiotis – Wilmington University
17. Adriano Debreau – Western Michigan University
18. Matthew Zaikos – Urbana University
19. Zachery Zeke – Adrian University
20. Jordan Sedhi – Seton Hill University
21. Christian Brunet – Lewis University
22. Nicholas Luciani – Culver Stockton University
23. Karman Saini – Swedish First Division Husqvarna FF
24. Jas Dhaliwal – Rogers State University
25. Matthew Dadd – Rowan College
26. Bernardo Alvarado – Monroe CC. University of New York









Bobby Graham - Academy Director – 905–265–1285
www.winstarssoccer.com
Congratulations to our academy player Bernardo Alvarado who signs with Monroe CC – State University of New York, Rochester



Today is a fantastic day for our soccer academy. I am so happy to announce that our Player Bernardo Alvarado has signed to study and play Collegiate Soccer for Monroe Community College – State University of New York. Bernardo has been an excellent player for our soccer academy.
Bernardo will now play for my very good friend Craig Dewar who is the head coach and Monroe CC. is one of the best soccer programs at the D1 Level of National Junior College Athletic Association. The school is beautiful and is located in Rochester New York.
I would like to congratulate all the people who have made today possible for Bernardo with his soccer and his Life. Especially his Dad Ivan who has been behind him every step of the way and the rest of his Family, as well his Teammates and Coaches especially our fantastic goalkeeper Coach Roberto with our academy and his high school Coach and Teammates. I would also like to thank Craig, his future Coach who made all this possible.
All of us at Winstars wish Bernardo the very best as he enters into the next chapter of his life and we will work hard with him to make sure he is ready to impact from the start.
Sincerely,
Bobby Graham – Academy Director
www.winstarssoccer.com
905-265-1285

www.monroecc.edu
Congratulations to our academy player Meneli Lostoridis who signs with Monroe CC
Today is a fantastic day for our soccer academy. I am so happy to announce that our Player Meneli Lostoridis has signed to study and play Collegiate Soccer for Monroe Community College – State University of New York. Meneli has been an excellent player for our soccer academy.
Meneli will now play for my very good friend Craig Dewar who is the head coach and Monroe CC. is one of the best soccer programs at the D1 Level of National Junior College Athletic Association. The school is beautiful and is located in Rochester New York.
I would like to congratulate all the people who have made today possible for Meneli with his soccer and his Life. Especially his Mom Chryss who has been behind him every step of the way and the rest of his Family, as well his Teammates and Coaches with our academy and his high school W.A. Porter Collegiate Institute and his Coach and Teammates. I would also like to thank Craig, his future Coach who made all this possible.
All of us at Winstars wish Meneli the very best as he enters into the next chapter of his life and we will work hard with him to make sure he is ready to impact from the start.
Sincerely,
Bobby Graham – Academy Director
www.winstarssoccer.com
905-265-1285
David D'Errico - Ambassador and Friend



It was great to see my long time friend while in Dallas, Texas at the FC Dallas Showcase as well when I went down to the 40th anniversary of the Dallas Cup. David was Captain of the USA National Team and in the North American Soccer League with Seattle Sounders and Rochester Lancers, played against some of the finest players in the World – Pele, Cruyff, Best to name a few. David is President of IAM360 Soccer Directory in the USA and we are going to partner with his company have big things in store. As well David played with the MISL New York Arrows. David also played Collegiate Soccer with legendary program NCAA D1 Hartwick College and born in Harrison, New Jersey and played his youth soccer in Kearney with the Celtic Club in Kearney.

I look forward to having David as an ambassador of our soccer academy, we want to have high standards and David brings that as well as such an amazing passion for the game that we both share.

Dejan Jakovic Signs on Loan at Las Vegas Lights FC


With over 100 caps in Major League Soccer and 40 with the Canadian National Team, Jakovic brings experience and leadership to Lights FC's roster; Jakovic arrives to Las Vegas via loan from MLS' Los Angeles FC.
Las Vegas (NV.) -- Las Vegas Lights FC added an experienced piece that will be an immediate contributor in the back line, as Canadian National Team member Dejan Jakovic joined the roster via loan from MLS leaders Los Angeles Football Club (LAFC). Jakovic is eligible to play for Lights FC immediately.
"We're thankful to get him to be a part of our team, he brings poise and experience and he's still one hell of a soccer player," said Lights FC manager Eric Wynalda. "One of the things that you have concerns about when you get an experienced guy is the speed aspect. That's not an issue with Dejan, he still has a step and will clearly help us in the air. We couldn't be more thrilled to be a part of this team right now."
Born in Karlovac, Croatia, Dejan moved to Toronto when he was six years old. After being a part of the Canadian National Youth Program, he enrolled in the University of Alabama at Birmingham where he played his full collegiate eligibility of four years. Early in his career he joined Serbian SuperLiga giants Red Star Belgrade.
In 2009 he returned to North America by signing with Major League Soccer's D.C. United, playing with the club during 5 seasons where he played in a total of 98 MLS games. After a successful run with the Black-and-Red that included winning the Lamar Hunt U.S. Open Cup in 2013, Dejan was transferred to Shimizu S-Pulse of the J.League (Japanese top tier professional league) where he was a part of their roster for 3 years.
After spending 2017 with the New York Cosmos, Jakovic was announced as part of LAFC's roster for their inaugural season as an MLS franchise. He was featured in a total of 15 league matches with Los Angeles, including 13 as a starter. LAFC re-signed him on January 16, 2019.
Dejan Jakovic earned his Canada National Team senior debut in a win over Martinique on January 30, 2008. He has been called up by the Canadian side each year since, including appearances at the 2009, 2015 and 2017 Gold Cups, plus five FIFA World Cup qualifiers
"It's awesome, I'm very happy to be here and very glad to join this talented group of players to hopefully pick up some wins", said Jakovic after practicing with Lights FC for the first time. "I've been around for a while, I have a ton of experience abroad and in the MLS. I'm going to bring leadership and hopefully not concede any goals. We need to be compact, not just defensively in the back four, but the whole team."
Jakovic's arrival strengthens the center back position for Las Vegas, joining Javan Torre and Gabe Robinson who have been starters for the team in that position for 13 and 12 USL Championship games, respectively.
"We're dealing with a guy who has been the captain of his country, who plays a position which is one that sees the game well, orchestrates from the back, he's essentially a coach on the field," stated Wynalda. "When you're dealing with younger players who need help, need guidance, there's not a whole lot you can do with when the game starts and you're on the sidelines. But there's a lot that you get from a guy with Jakovic's quality and his experience, especially when he's standing right next to them."
Dejan Jakovic joined Lights FC's training sessions and will be available for team manager Eric Wynalda as Las Vegas starts a two-game homestand on Saturday, June 8 against Orange County SC. The "Summer of Soccer" kicks off with this match, where ticket prices start at just $10 for Lights FC home games through August 24th. Tickets can be purchased both online at LightsFC.com/Tix and by calling 702-728-GOAL. The best ticket prices for Lights FC home matches can be found at every La Bonita Supermarket in Las Vegas.
LAFC Loans Defender Dejan Jaković To Las Vegas Lights FC



LAFC announced today that the Club has loaned defender Dejan Jaković to Las Vegas Lights FC of the USL Championship.

Per the Right of Recall incorporated in the loan agreement, LAFC retains the right to recall Jaković at any point during the MLS regular season, subject to MLS roster compliance guidelines.

Jaković, 33, joined LAFC prior to the Club's inaugural campaign in MLS last year, In his first season with the Club, the Canadian defender saw action in 15 regular season matches, as well as two U.S. Open Cup contests.

Prior to LAFC, Jaković played for the New York Cosmos (2017), Shimizu S-Pulse (2014-16), D.C. United (2009-13), and Red Star Belgrade (2008).

TRANSACTION: Los Angeles Football Club (LAFC) loans defender Dejan Jaković to Las Vegas Lights FC of the USL Championship.
https://www.lafc.com/post/2019/06/07/lafc-loans-defender-dejan-jakovi-las-vegas-lights-fc


Testimonial - From Bobby Clark - Notre Dame/Stanford/Dartmouth College


Henry Allan commits to Medaille
Putting all his eggs in one basket four years ago has paid off big time for Henry Allan.
The 17-year-old, Grade 12 student at Sir Winston Churchill gave up playing AAA hockey in Grade 9 to focus on soccer, a decision which has earned him a scholarship from Medaille College in Buffalo, where he plans to study concurrent education.
"Since Grade 9, I started focusing on soccer and trying to get the scholarship," said Allan, who indicated he will received a full academic scholarship. "It was tough picking (soccer over hockey) but in the end I loved soccer more. It's my passion and I wanted to pursue it."
Allan is looking forward to attending Medaille, a small private liberal arts college.
"I looked at a couple of others (schools) but what sold me on Medaille was the community feel," Allan said. "It's a smaller school so I'm going to get a chance to know everyone and meet all my teachers. They're going to know me by name rather than a number.
"I'm going to be right at home."
Allan is excited about the athletic component of the scholarship as well.
"They're a good program. They've won their conference (Allegheny Mountain Collegiate Conference) the last two years so I'm going into a good situation," he said. "The coach said he is looking for two centre-backs to come in so I can come in and claim a starting spot right away."
Having said that, Allan realizes there will be some culture shock going from St. Catharines to Buffalo.
"I'm a little nervous," he admitted. "It's different. You go from being a big fish in a little pond to a little fish in a big pond. I think where I am playing this summer will ease into that transition going forward."
Allan is playing for the Hamilton United U21 League 1 reserve team this summer. He previously played on club teams in Brampton, Woodbridge and Winstars Academy Vaughan.
He describes himself as a big, physical presence at the back.
"I'm able to easily play with both feet. I'm comfortable on the ball and I don't get rattled easily," he said. "When I first started taking soccer seriously, my coach told me if you play defence in hockey then you're going to play defence in soccer, too. That's how I started playing defence, but I love it."
Allan mentioned former coach Bill Dixon of Brampton and his parents, Paul and Laurielle Allan, when asked who helped him achieve his goal.
"My mom and dad sacrificed a lot of time over the last four years for me to be able to pursue this," he said. (Bill Dixon) really pushed me to continue with soccer and told me not to get down because it was taking time for it to happen."
Allan scored once Thursday while Nate Smythe added three as the Bulldogs topped the Governor Simcoe Redcoats 4-1 to advance to the senior boys Zone 4 AA finals versus Holy Cross next week.
https://www.bpsportsniagara.com/allan-commits-to-medaille/
Congratulations to our Academy Player Marco Chang who makes his commitment to West Liberty University



Today is a very special day in our soccer academy as our Player Marco Chang advised me that he will be attending West Liberty University in West Virginia and will play NCAA University Soccer for the Hilltoppers on Athletic Scholarship. Marco has worked so hard on the soccer field and in the classroom to make this day possible. I would like to thank my good friend and Head Coach at West Liberty Sean Regan for making this all happen. I would like to thank our Coaches and Academy Teammates and everyone and anyone who helped and guided Marco with his soccer over the past many years, all of you can feel really good about this day.
I would like to congratulate Marco as he has been a fantastic player for our academy, he is a very smart player who is very serious about his soccer and his studies. I would also like to congratulate his Mom and Dad who have been supporting Marco in every step of the way. They are a first class Family.
In closing, on behalf of all of our academy, we wish Marco the very best as he enters into the next chapter of his life and I know Marco will do really well as he loves the game of soccer and has been most consistent in his play since he started with our academy and has the passion and desire to play at the highest level.
Sincerely, Bobby
Bobby Graham
Academy Director
CONGRATULATIONS TO ROBERT D'ANGELO WHO SIGNS AT SIENA HEIGHTS UNIVERSITY - MICHIGAN
Congratulations to our Academy Player Robert D' Angelo who signs letter of intent to attend Siena Heights University and play for their NCAA Saints Team
Today is a very special day in our soccer academy as our Player Robert D'Angelo will be attending Siena Heights University in Adrian Michigan and will play NCAA University Soccer for the Saints. Robert has worked so hard on the soccer field and in the classroom to make this day possible. I would like to thank Head Coach at Siena Heights Andrew Crawford for making this all happen. I would like to thank our Coaches and Robert teammates and everyone and anyone who helped and guided Robert with his soccer over the past many years, all of you can feel really good about this day.
I would like to congratulate Robert as well congratulate his Mom Carol and Dad Lou and Brother Michael as well as Robert Aunt. All have been there for him every step of the way supporting Robert. This Family are very special to me personally as I was given the wonderful opportunity to Coach both Boys and Michael just graduated after earning his degree to be a Teacher from Concord University in West Virginia.
In closing, on behalf of all of our academy, we wish Robert the very best as he enters into the next chapter of his life and I know Robert will do really well as he loves the game of soccer and has been most consistent in his play since he started with our academy.
Sincerely, Bobby
Bobby Graham
Academy Director
www.winstarssoccer.com
(905)265-1285
Jace Kotsopoulos Signs with Forge FC


Forge FC announced Thursday the club has signed forward Jace Kotsopoulos to a U Sports Development Contract.
Kotsopoulos, 21, was selected by Hamilton in the first round, third overall, in the 2018 Canadian Premier League – U Sports Draft. He attended Forge FC's preseason training camp earlier this season.
The 5-9, 155-pound native of Burlington, Ontario completed his fourth season with the University of Guelph in 2018 and led Ontario University Athletics soccer circuit in goals (15) and points (19). For his efforts, he was named an OUA West First-Team All-Star, the OUA West Most Valuable Player and U SPORTS Player of the Year. Kotsopoulos is the Gryphons' all-time leading scorer with 53 goals and seven assists for 60 points in 57 career games (53 starts).


CONGRATULATIONS TO JACE KOTSOPOULOS - OUR ACADEMY PLAYER
Another Award to add to his many – including Player of the YEAR in the OUA/CIS
Really proud of this young Man – Jace Kotsopoulos – former academy player
Congratulations to Joey Bellotti signing with NCAA Division 1 Duquesne University



Today is a great day for our soccer academy as I just was informed our academy player Joey Bellotti has signed with Duquesne University where he will attend University in Pittsburgh Pennsylvania and play NCAA Division 1 Soccer for the Dukes on athletic scholarship. Joey will play for Head Coach Chase Brooks in the prestigious Atlantic 10 Conference. Joey has been with our academy since he was 15 years old and I am so proud to hear the fantastic news of him signing with Duquesne, he will get a quality education as well as playing top level soccer at the highest level of College Soccer.
I would like to congratulate Joey on this special signing and his Mom Ronia and Dad Rob and his brother, all of have been with him from day 1 and every step of the way. I would also like to congratulate IMG Academy where Joey has been studying and playing soccer and all the coaches, teachers and supporters who have helped this young Man get to where he is today.

All of us at our soccer academy and myself personally are so happy for Joey and the Bellotti Family and wish Joey the very best as he enters the next chapter of his life. It has been a pleasure to have him be a Winstars Player and really excited for his future.
Bobby Graham – Academy Director
www.winstarssoccer.com
Media Release - below
At the age of 15, playing in Vaughan for Coach Bobby Graham of Winstars Soccer Academy to playing in Italy on FIGC grounds against some of the world's best soccer players. Joey Bellotti's focus was on graduating IMG Academy High School and signing a professional contract at the age of eighteen.
Mission accomplished! After receiving offers from professional European clubs, from England to Madrid Spain Joey Bellotti decided to move forward with Spain's first division La Liga's CD Leganes. However throughout the signing process many D1 coaches were advising Joey that he would not be eligible under the NCAA rules to receive a scholarship after signing a paid contract. Realizing how important education is and that he would be one injury away from not playing professionally,
Joey decided not to pass up his opportunity at a scholarship in the US. Due to the persistence of the Coaches along with having an excellent soccer / academic program including one of the top business schools in the US, Joey decided to make Duquesne University his future! Many thanks to the proper guidance and coaching from Winstars Soccer Academy coach Bobby Graham to the coaches at IMG Academy and of course the entire coaching staff at Duquesne University, Head coach Chase Brooks and Assistant coach Josh Faga!
Let's go Dukes!!
Joey on our summer tour with Coach Bobby – taken in Philadelphia

WINSTARS SOCCER ACADEMY UPDATE - WEDNESDAY APRIL 24TH


Academy Home of Dejan Jakovic – LA FC – MLS
Our Academy is ranked Number 1 in Canada by Got Soccer – Beating FC Dallas
last month who are 9th in the USA Ranking kept our Status as Number 1
Academy Training this week
Saturday – Concord Turf Field – 4pm – 6pm
Sunday – Concord Turf Field 1pm – 3pm
Concord Thornhill Turf
299 Racco Parkway
I hope all of you had a good Easter weekend. I was in Dallas at the Dallas Cup – 40th anniversary and the Generation Adidas Cup held in Frisco at the same time. Had fun watching some good Futbol and temperature was in the 80's a wee bit better than when we were there one month ago. Got soccer was at the Cup and informed me we are the Best Academy in Canada at the U-18 Age group as we beat FC Dallas to win the FC Dallas Showcase.
Excited to see our academy tonight and will be great to get outdoor this weekend on the turf and we will start on our outdoor on the grass fields at Concord Fields the week of May 6th.
We will also be playing TFC / GPS Academy / FC Durham Academy and Vaughan in exhibition matches as well participating in tournaments, so it will be a busy spring and summer season.
One of our boys is up for the Lieutenant Governor Athletic Award. Please help and go online and vote for him. He was chosen best player in Canada by the U-Sports last year as well he is an excellent person Jace Kotsopoulos and he is a Winstars Player.
Look forward to seeing everyone tonight at training !
Bobby Graham – Academy Director
www.winstarssoccer.com (905) 265-1285

Congratulations to our Academy Player Rohun Kawale who commits to NCAA D1 University of Rhode Island


Today is one fantastic day for our soccer academy and especially for our academy Player Rohun Kawale who has committed to attend University of Rhode Island on Scholarship. He will study Business in their prestigious school of business and he will play NCAA Division 1 Soccer and be a Ram and play for Head Coach Gareth Elliott in the Atlantic 10 Conference. University of Rhode Island is a Top 20 NCAA Division 1 Soccer Program.
Rohun is an excellent soccer player as well as excellent student. He has earned this opportunity thru hard work and perseverance and his positive attitude and dedication and focus. He will play for one of my best friends in the NCAA Gareth Elliott who is a top Coach in the NCAA and as recent as last year led his team to become Atlantic 10 Champions only to lose in the tournament in overtime to a very good University of Connecticut.
I have known Rohun for many years as I have Coached his two brothers Neel and Jai in my soccer academy. He comes from a first class Family and I would like to take the time to congratulate his Mom Priti and his Dad Nitin as well as his two brothers Neel and Jai.
I would like to take a moment to acknowledge all the Coaches and Programs who have helped Rohun get to this day as well recognise his current school and academy IMG where he has been attending for the past two years.
Great day for Rohun and the Kawale Family and a Great day for our soccer academy.
Bobby Graham
Academy Director
www.winstarssoccer.com
905-265-1285
REALLY PROUD OF THIS YOUNG MAN - WE PRESENTED HIM ON THE WEEKEND



BEN WILLIAMS
WEEKEND WAS A BIG TIME SUCCESS – REAL PROUD OF ALL OF YOU !


Great weekend, could not have scripted it better ! Academy played Fantastic, weather was amazing, Coach Bus from Luxury Coach was first class. Hotels were good. Big thanks to Belrum our Coach who did a great job, thanks to our Coach Bus Driver Tom who did a great job and big thanks to Jimmy who does a great job. Performance was real good, could not have got a better effort from Players and attitude and conduct was also very good. Also thanks to our parents who made the trip and that is really good as they see the level of D1 as well as the quality of schools at the D1 Level.
Both games, in the first half we were not scored on in first half. Amazing. URI is a Top 20 NCAA D1 Team, so proud of our boys and as usual something special is happening at our wee academy.
See you all Wednesday night at training. for those who owe payment for training, please do that online today as we are a small academy and really need to be paid.
Both Coaches at URI and Bryant were most impressed by all of you. Well done to all of you !
Bobby Graham – Academy Director – www.winstarssoccer.com / 905-265-1285

Click on picture to enlarge

Presenting our academy player Ben Williams with an award

Bryant University and our academy together after the game on Saturday (Click on photo to enlarge)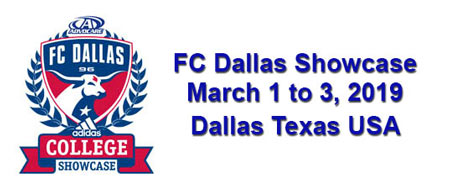 Here are the last two games:
https://od.lk/fl/MzBfMTM3NDUyMl8
SHOWCASE BANQUET 2018


It was real special to have two of our former players who are now Professional Players come and join us at our recent Showcase Banquet. Both Dejan Jakovic and Milovan Kapor went to play NCAA Division 1 Soccer at UAB and UMBC and then went Pro. It was amazing how their presence was so important to our future academy players.

| | |
| --- | --- |
| | |
| | |
| | |
| | |
| | |
| | Click on Team Picture to Enlarge |
Winstars Player Showcase Profile Booklet 2018


Player Showcase Booklet Download
Showcase Player Photo Roster List
Winstars Practice at JMU



Game vs. Woodbridge SC on Sunday October 28th
Game vs Woodbridge SC - Sunday October 28, 2018
OUR ACADEMY PLAYER SCORES ANOTHER GOAL AS A FRESHMAN


Ben scores another goal, and being in the right place at the right time and not a surprise with his head. Great Season for a Freshman player Ben Williams at NCAA Division 1 Bryant University.
https://twitter.com/i/status/1053434546316705797

College Soccer News - Top 30 National Poll - Week Ending September 9, 2018

2019
NCAA Division 1 College Coach Contact Information
Summer Tour 2018 - Game Videos

Winstars vs Bridgewater College on Saturday August 26th

Winstars vs EMU on Tuesday August 28th

Winstars vs Philadelphia Union on Wednesday August 29th
CONDITIONING 2018 - WINSTARS SOCCER ACADEMY
EXCELLENCE IN ACADEMY SOCCER
The goal of your own training program is to assist you to get the most of your athletic ability so you can succeed on the soccer field. Improving your Strenghth and Endurance are the foundation for training and competing at the Elite level. Your dedication will be easily noted with your progress in our fitness testing, fitness training and team training sessions. The length of your training sessions will depend on how carefully you follow the work to rest ratio and your specific volume of training program.
This year is a big year for many of you with goals in mind of playing soccer at the highest level NCAA Division 1 / Professional Soccer
When we are on the tour, always have a bottle of water with you at all times.
Components of program
Warm-up (1) commit yourself to quality and effective warmup (2) The intensity and technique should be optimal to prepare you both physiologically and psychologically for your workout.
Speed development – (1) Technique is a priority, learn it and do it well. (2) Each of the exercises needs to be done with as much speed an explosiveness as possible. (3) Ensure enough recovery between repetitions. Do not rush thru the exercises.
Strength Training – (1) following full warmup (2) each exercise performed in the full range of motion. (3) Maintain proper technique and respect tempo assigned. (4) Recovery between sets should be no more than 60 seconds.
Core Training – (1) The abdominal muscles are almost entirely slow-twitch in nature. This means they respond very well to slow and controlled movements.
Aerobic training – Aim to have the times of the intervals consistent. You will get the greatest benefit if you keep your pace strong and under control. Try and get faster towards the end of the workout. *** Remember it is not where you start but where you finish ***
Cool Down – 5 minute easy jog. Perform Static stretches for each muscle group, hold position for 10-15 seconds. The stretch should feel like a slight tug and should not be painful.
RECOVERY / REGENERATION
The role which recovering your body over a tough pre-season cannot be underestimated. The Example weekly layouts all prescribe recovery sessions three times per week. This is a minimum expectation. You should be recovering after every session, every day. As much as many dislike certain aspects of recovery because of the discomfort is places you under it cannot be stressed the advantages which are seen when athletes complete correct recovery techniques. The easiest way to look at this is the Ice Bath should be come your best mate for 7-10 minutes each day. Training hard yet failing to recovery, is filing your body in its ability to adapt and improve to the imposed training stimulus.
Below is a list of recovery techniques you can look to implement into your training program:
• Hot / Cold shower - 1min hot, 30sec cold x 3-5 rotations (finishing on cold).
• Ice Bath - 7-10min in water at a temperature of 50-60 degrees
• Pool / Beach - spend time walking around, stretching and relaxing.
• Self-Massage
• Foam Rolling
• Stretching
• Compression garments
• Rehydration and Nutrition
Rehydration:
For each pound lost during exercise, 16 ounces of fluid should be consumed as soon as possible. A combination of water and sports drinks should be used to ensure that electrolytes and glucose (fast-absorbing carbohydrate) are also being ingested. Another strategy for assessing hydration status is to monitor urine color and output.
Replenish:
Carbohydrates and protein are critical for glycogen repletion post-workout. For prolonged intense exercise (aerobic or anaerobic) the best post-exercise carb to protein ratio appears to be 3:1 or 4:1. For resistance (strength-power) workouts a ratio of 2:1 to 3:1 may be more appropriate. *Low-fat chocolate milk is a perfect post-workout choice- it provides the necessary 3-1 (carb-protein) ratio
Repair:
The rapid introduction of carbohydrate, protein (and minimal fat) post-workout allows the body to begin repairing and rebuilding. The timing of protein intake is important and should be eaten every 3-4 hours. Post-workout protein should be consumed immediately (within 30 minutes).
Reduce:
Reducing oxidative damage (minimizing free radical damage) after exercise is also extremely important. Free radicals are unstable molecules produced during the metabolism of oxygen that promote inflammation and cell damage, leading to muscle soreness and delayed recovery short-term, degenerative disease long-term. Antioxidants are effective quenchers of free radicals, so it makes sense that ingesting antioxidants post-exercise would be an important strategy. The most effective antioxidants are Vitamin E and Vitamin C, and a wide variety of other phytonutrients found in fruits, vegetables, nuts and seeds.
Our Current Approach to Physical Preparation of Youth Soccer Players – (Part 2)
Read Time (~15 mins)
The Physical Preparation of our Academy Players
In Part 1, I outlined the importance of physical preparation in developing soccer players. In part 2, I go into detail about the five elements of our physical preparation program, how they fit into our program, and some interesting case studies.
Step One
The first step in developing a program that would integrate with practice was simple - understand the environment. Every team has rules, expectations, processes ­- aka culture ­- that shape the training environment.
I always listened closely to coaches and players, along with getting to know everyone's names.
A successful program starts with good relationships between myself, the players, and coaches. While gaining their trust, I would continue experimenting with ways to squeeze in elements of strength, power, speed, and conditioning into the 15-20 minute blocks I am afforded.
Although some things change from a programming standpoint, the goal remains consistent – a well-rounded physical preparation program for developmental soccer players!
Conditioning
In this section, I present the conditioning demands of soccer, how we monitor conditioning levels, and how intensity is viewed within the program.
It doesn't take someone with a degree in sports science to tell you that conditioning is critically important for soccer. The game itself is a test of conditioning – two 45-minute continuous halves, in which each team is trying to outperform the other.
Preparing for the demands of the game requires more than being able to run for 90 minutes.
Soccer is more than a continuous running sport; it also requires the ability to perform repeat sprints (RSA), separated by intermittent recovery. The length of recovery between high intensity runs changes with match situations, ranging from 20-60 seconds (1,2,6).
Our go-to conditioning test is the Yo-Yo Intermittent Recovery Test, developed by soccer physiologist Dr. Jens Bangsbo. Not only is it widely used amongst other academies, it's also been well researched in soccer players, both professional and youth. A score of >2,320 (stage 58) has been proven beneficial in promoting RSA in elite junior soccer players (age 19) (3).
In our academy, I'd like all players to reach a benchmark of 50. Currently, half of our team has met this benchmark, with a few surpassing 60.
Case Study
Since June, we've seen an average increase of 13.1 stages in the Yo-Yo test in the players who are still with us (many 15+ stages!). As a team, we've increased the average score from 35.2 to 47.2 (June-February).
Although we've had players come and go during that time, the fact is, we are fitter today than we have been in the past.
The Conditioning Continuum(s)
Our soccer practices are two hours (120 minutes) and provide the bulk of conditioning required for soccer players. Most importantly, practice must have both low and high intensity components to prepare for the demands of a match.
The best way to digest the different components of conditioning for a soccer player is to view them on a continuum of intensity.
Using Heart Rate (HR) monitors throughout the indoor season, I've been able to confirm that our practices include an appropriate distribution of work in each of the intensity "zones" listed above.
But that doesn't paint the complete picture.
For most of practice, it is rare that a player reaches close to their top speed, or makes a run over 50 meters with pace.
These gaps at high intensity are where conditioning without a ball fit into the program.
Running without the ball may be a prerequisite for achieving certain high intensity qualities; specifically max speed. Distance covered at high intensities fall within both speed endurance and repeat sprints (with and without ball).
I find it best to view these qualities on a continuum of speed.
Within these 2 continuums, there is surely cross over. As you can see, the speed continuum (Figure 2) exists on the intensity continuum (Figure 1).
Application to Practice
As I stated earlier, practice covers the bulk of conditioning. We are looking to ensure we are training at high intensities, across all qualities of the continuum – with and without the ball. To complement practice, players are advised to run at a low intensity on most non-practice days.
Speed


Below, I explain why speed development is a key component of the program, how we train it, and present a case study.
As made clear in the above section, running is important to soccer performance. Both speed and endurance will lead to better running performance. Speed sessions have been a mainstay of the program since the beginning and there are important 3 reasons for this:
The higher your top speed, the easier it is for you to run at a submaximal speed – leading to improved endurance.
The force and velocity that your body is producing to reach top speeds cannot be matched by any other exercise. That means you are getting more powerful AND faster when sprinting.
You do not reach the speed you will be exposed to in a game enough during practice and small-sided games – which can leave you exposed in a game, both to injury and tactically. We must supplement this type of work in practice to effectively prepare for this component of match play.
Speed training is usually done in our Saturday practices, the reason being, they are theoretically well rested since Tuesday's practice – which is a MUST for speed training.
Currently, we are getting 4-5 high quality sprints per week. I've started to use warm ups for speed prep, and finish off the warm up with 2-3 sprints with long periods of rest (2-5 minutes, depending on the distances) – we are experimenting with this 2x/week.
Case Study
With one speed day and resisted acceleration day per week between November and February,
we've seen improvements in 30m sprint times as high as 0.15-0.29s
in some of our players' sprint times. This is quite impressive in a short block of training that included a holiday break.
Strength

In this portion, we dive into the influence strength has on reducing injuries, power, program structure and general guidelines for soccer players.
Soccer is a physical game, and you must be prepared for it when making the jump to the college game. Beyond the physicality of soccer, a balanced strength program can help to reduce common injuries. The stronger your muscles, tendons and ligaments, the more resilient they are to injury.
"Strength is the mother of all qualities" – Dietmar Schmidtbleicher, German Sports Scientist
It is a fundamental quality of power (Power = Force x Velocity), which underpins many athletic qualities. How powerful you kick a ball is dependent on both the force you strike the ball with strength and speed.
Whether it is power, speed, or endurance – having a good base of strength is a perquisite. It is critical that we maintain some type strength training in our weekly plans for its injury reduction benefits.
Logistics trump all when it comes to programming.
Being resourceful in programming is important when time and equipment is limited. Strength training is not limited to only lifting weights. For me, it also includes our "ankle strengthening" routine - a series of low amplitude jumps - and our sprints which are a part of our "hamstring strengthening" routine.
For most of the year, we have trained for 20-30 minutes, one time per week. Our strength program consists of 4-6 exercises in a circuit format that alternate between upper and lower body to allow recovery time between similar exercise groups.
Currently, we are experimenting with non-competing supersets (four exercises total). Using an "every minute on the minute" (EMOM) style program, we are able to rest 2 minutes between upper and lower body exercises – ensuring we are recovering adequately for power and strength work.
My recommendation for any soccer player would be to lift weights 2-3x/week to supplement what we are doing in practice. It is critical that a well thought out lifting program be done to avoid competing soccer demands, injury, and putting on too much muscle leading to loosing speed.
- 4 players got injured this past year in the gym
- 4 players have put on too much muscle/weight at points over the year leading to poor performances in the Yo-Yo test and 30m Sprint
Power

The following segment outlines the three parts of our power program, insight into a week of jump training, and a case study about an testing tool that has been useful for monitoring lower body injury
. Power training is about moving fast – which is critical to soccer. Our power training program is simple:
1. Sprints
2. Jumps
3. Throws
By performing these explosive movements at different loads and speed, we are training to be more powerful. Similar to strength training, performing a balanced power program will help strengthen your muscles, tendons and ligaments, making you more resilient to injury.
Take our jump training for example. Most of the year, we've completed extensive-low amplitude skips/hops/jumps one day a week, while complementing intensive-high amplitude jumps (ie. Repeated jumps, tuck jumps, loaded jumps) throughout the week.
Case Study
The ability to produce force rapidly is important for sport, which is why we are looking to quantify it through testing. Of particular importance in young soccer players is the asymmetry between legs – common to many athletes. When this asymmetry gets outside of a tolerable limit, it can lead to overuse injuries.
The Single Leg Hop test (SLH) is an important marker for us. Not only a test of single leg power, but an opportunity to monitor athletes returning from injury, or those who may have a potential risk to developing one.
From November and February's results, a combined 7 of 8 athletes who had an asymmetry > 5% between legs had either been returning from injury, had an injury at the time of testing, or later developed some sort of pain/injury in the lower body.
In 4 of the 7 cases, athletes picked up lower body injuries following testing.
This SLH is a go-to in our testing battery, serving as an important monitoring tool for our athletes.
Agility


The below section on agility will define the components agility, why it's complex, and how we are approaching it with training.
Training "agility" is very elusive, partly due to the many components that are involved, and the lack of transfer to sports performance (See Figure 3).
Within each component exists further subcomponents. For example, within change of direction, we must consider an athlete's ability to accelerate, decelerate, co-ordinate their limbs, change their center of gravity, etc.
Making matters more complicated, each athlete has a unique agility skillset - often specific to their position. For example, midfielders who are often in the "right place" to receive the ball have strong decision making and visual processing skills which make their style of play seem effortless (ie. Iniesta). On the other hand, defenders require strength to win challenges and the ability to anticipate, and change direction based on an attacker's play (ie. Sergio Ramos).
Sport is chaotic, and ultimately, your ability to succeed depends on your ability to read and react to the game.
The good news is that soccer practice allows players to work on these skills, in a sport specific context. Without sporting context (i.e.. use of the ball, positional tactics, game objectives) there is hardly any transfer of the critical skills required to read and react to the game.
So, what are we currently doing for agility?
Simply put, we focus mainly on change of direction.
As is the theme with this article, we must physically prepare for the demands of the game. Most injuries occur during changes of direction (deceleration, landing, cutting) – so we must allow our players to build proficiency and strength in these positions.
Throughout the year, we have used the end of warm ups as a time to introduce and work on different movement skills (i.e.. cutting, shuffling, landing, accelerating, decelerating etc.). Adding another layer on top, we may add visual/decision making stimuli by performing partner reactive drills, or position specific tasks (i.e.. defenders react to attackers change of directions).
Putting it Together

This article is the result of over 100 sessions with the Winstars this past year. It represents our current approach to physical preparation, and will surely evolve as time passes. I hope it provides context to our program, and the current thought process behind it.
For more information about Coach Joe and to learn more, visit joevecchione.com.
Realize your Potential


Realize your Potential from Winstars Soccer Academy Video on Vimeo.
Our Current Approach to Physical Preparation of Youth Soccer Players – (Part 1)
By: Joe Vecchione
With over 100 training sessions in the books with the Winstars, I've been inspired to write this two part series sharing our current approach towards the physical preparation of our academy players – for college coaches, parents, and more importantly – our players. As a Strength & Conditioning (S&C) coach, my role is to physically prepare athlete's for the demands of their sport, with the goal of improving performance and reducing injuries.
Training for sport is completely different than what you'd find in a commercial gym – AND on TV when you see athletes training.
Sport science has helped us push the limits of performance, which have shifted the culture of physical preparation in various sports – particularly in soccer. Many professional teams in Europe's top leagues employ half a dozen people like myself to take care of their first team. Today's modern soccer player must be physically fit to compete at the highest levels.
Simply put, physical preparation is important.
Which is why we've worked towards incorporating elements of S&C into each practice over the course of a week. Being at every practice over the last 12 months presented the opportunity to always be working on the physical development of our players.
It's also brought a heightened level of professionalism to our approach – with S&C being commonplace in professional academies around the world.
When developing young soccer players who are pursuing college scholarships, the importance of their physical development cannot be understated. Although a bias perspective (since I am a S&C coach), top coaches understand it's importance in developing high performance athletes.
Particularly those who are recruiting players for the next level in College.
Don't believe me? We had a D1 coach come up to recruit a few months back, and he told me "There are a lot of programs that feel if a player has the physical traits, they can bring up their technical and tactical skills. The college game is so fast and physical, if you're not built for it, you won't see the field."
Still don't believe me? Out of our current graduating group, we have 2 players going to D1 schools next year.
They happen to be two of the fastest players on our team (30m sprint test).
Your physical ability, whatever your strength may be – speed, strength, endurance – can be the difference between you and someone of equal technical/tactical ability.
An Integrated Approach.
On the soccer field, through warm ups, cool downs, and 10-20 minute blocks throughout practice, we've been able to effectively blend elements of strength, power, speed and conditioning into our soccer practice (details to follow in part 2).
Communication between coaching staff has allowed for this successful integration.
We must have a common understanding of practice intensity/goals in order to marry the two. Like chefs, we have our ingredients (exercises/drills), but we must create the right recipe (structure/program) to bring forward the true flavour of each ingredient in a delicious dish.
The results have been impressive.
Here are a few things that stand out in particular:
1.            Zero injuries on 2017 Summer Tour where we played 4 games in 4 days (90 minute, full field).
2.            The Yo-Yo Test (one of our Key Performance Indicators – KPI) has improved from a team average of 35.2 (June) to 47.2 (February) – 12 stages!
3.            Inquiries from a College Coach (who has 2 of our former players) about our S&C programs
•             One player had the best long jump score on team as a freshman.

•             One player had the best yo-yo score (aerobic fitness) on team as a freshman.
4.            Limited injuries over the course of the year
5.            More players on scholarship!
These are just a few highlights among many from over 100 training sessions and 12 months with the Winstars.
Stay tuned for the next part in this series where I'll go into detail about the elements of our physical preparation program – including rationale, results and observations, along with some of the ways we are applying it into our daily training environment.
For more information about Coach Joe, visit joevecchione.com to learn more!
Winstars Promo Video


Flashback from 2007 – All players went on scholarship, mainly NCAA Division 1 and our Academy won SAAC League and SAAC Cup against Bryst at BMO Field, we went undefeated in the first year of SAAC competition and first year of our academy.
Winstars Promo Video from Winstars Soccer Academy Video on Vimeo.
From Oakville Winstars to General Manager – MLS Team


Having Coached many fine players over my many years of coaching, you always remember the special ones. We had an amazing Team and a boy who was from Kitchener was on our younger Team and asked to come to our Training and train with our squad and the first weekend he came out we had Trevor Adair, good friend of mine up from Clemson University and we both said who is this player and the rest is history, if you are good enough you are old enough.
Niki was a very good player and became our Captain, was MVP of the Tampa Sun Bowl, scored two goals for us to beat Scott Gallagher of St. Louis in the Championship Final of the Capital Cup. Played with our Team in the opening game of the Dallas Cup Super Group where we were the opening game of the event against eventual winner AC Milan, advanced in the group only to lose to Boca Juniors in the quarter Finals.
Niki went on to James Madison University, Dr. Tom Martin who is one of my best friends recruited him and he had many choices and chose JMU. This Oakville Winstars Team was very special and had all 18 players go on athletic scholarship to NCAA Division 1 Universities. Niki went on to receive his Masters Degree back here at Wilfred Laurier University, went pro in Europe for a few years and then went into the Soccer Scouting Business and now with Orlando FC of the MLS.
Really proud of this young man, a fine player and more important a fine individual who always represented our program with pride and class.
Niki Budalic-General Manager – Orlando City FC - MLS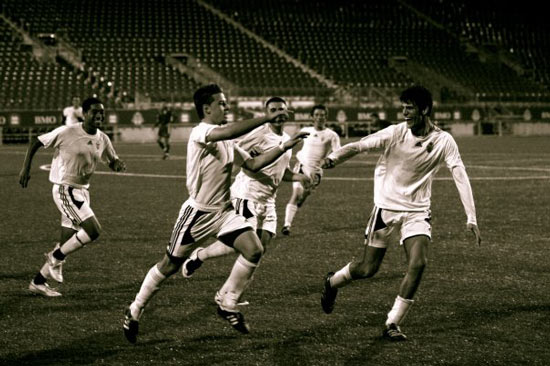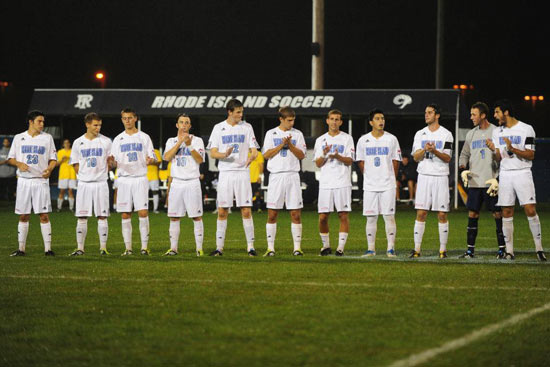 Spring Tour March 2018 - UAB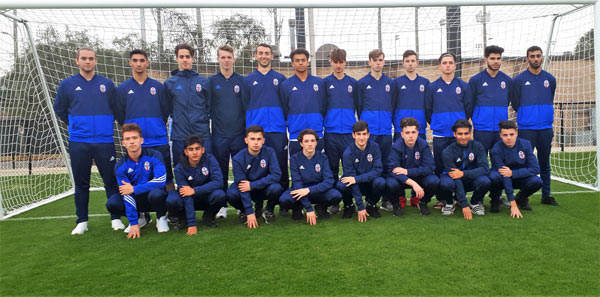 Click on picture to enlarge
Our Commitment
Our mission is to empower student-athletes to pursue their dreams. Adversity in the recruiting process is inevitable, but can be overcome with candid guidance. Everyone's process is different. We will work together to achieve your definition of success.
Learn More

The Insights Approach
College coaches want to hear from you. It's up to you to own your process. We provide the personal curriculum, guidance, and action items to maximize your efforts.
2. Leverage Your Advocates
Your guidance counselor, high school and club coaches are your support team. We don't replace this team, we help you leverage it.
3. Realistic Expectations
2% of high school athletes receive an athletic scholarship. We do not promise scholarships. We help you find the right athletic, academic, social and financial fit.

It is ok to be confused by the college search and recruiting process. We built Insights for you.

Get My Questions Answered

What's Included?

Dedicated Analyst

Personal Curriculum

Data + Analytics

2 Highlight Reels
Dedicated Analyst
Every athlete is matched with a dedicated Insights Analyst. Our Analysts are former college athletes, trained to leverage our proprietary data from thousands of committed athletes. Through working closely with your family, we design an actionable framework for you.

We remember the days of early weekend practices, long road trips to recruiting tournaments, and late nights studying. You and your family have invested so much into your athletic and academic career. My goal is to help you maximize these efforts with a personal, action-based plan of attack.
Alyssa Palomba, Insights Analyst
Personal Curriculum
Our team of former college athletes, former college coaches, and data scientists built a curriculum that has been proven to drive results. Recruiting is not one size fits all. Our framework adapts to your unique goals.
Course 1
Recruiting 101
Welcome to Insights! In this course, we will get to know you and your family and set you up for success with a personalized timeline to guide you through the recruiting process. You will learn the best practices for using the Sports Recruits platform and leveraging your coaches and guidance counselor.
Course 2
Target Schools
Using in-depth data analysis, find out what schools are a good fit for you academically and athletically. We will set you up for success, not just for the next 4 years, but for the next 40.
Course 3
Communication
Learn the most effective strategies for interacting with college coaches. With millions of messages sent through the Sports Recruits platform, we have been able to see firsthand what works.
Course 4
Elective
This is your opportunity to dive deeper into a topic of your choice. Choose the course that best fits your needs.

-Highlight Reels
-Scholarships + Financial Aid
-NCAA Rules + Regulations
-Interview Prep
Each Insights course includes:
A package of course materials
Action items
A 45 minute phone call with your dedicated Analyst

Data + Analytics
Millions of interactions between athletes and coaches on our platform have led to thousands of commitments. Access the most comprehensive dataset in recruiting through SR Insights.

Proprietary Data
We built tools to query our proprietary data in an aggregated and anonymized format, allowing us to share insights from the thousands of successful athletes on our platform.
Academic Fit Report
Using your target list of schools, we provide an analysis of where you stack up academically next to other athletes interested in each school.

SR Interest Scores™
SR Interest Scores™ measure which schools are most popular amongst recruits each year, helping you discover new opportunities and prepare for competition.


What schools are you interested in?
Learn how Insights can help you focus on the right schools.
2 Highlight Reels
Our post-production team has built
We will help you stand out from the crowd.
Title Card
A professional title card tells college coaches you're serious about your recruiting process
Isolation effects
Don't make college coaches guess which player you are
Your Video
We can use any video you have to create your reel
Do you have access to video?
Learn how to leverage your video to maximize your exposure.
We have partnered with Sports Recruits


Happy to announce that we have partnered with Sports Recruits and real excited about this initiative as our academy is a Players first Academy and with SR we can work to become the best Academy in Canada for the Serious and Gifted Soccer Players who want to get to the next level.
https://sportsrecruits.com/insights
Schellas Hyndman's Do's and Dont's of College Recruiting

Schellas is now the Head Coach at Grand Canyon University in Phoenix Arizona – NCAA D1 Soccer Program

http://www.usyouthsoccer.org/schellas_hyndmans_dos_and_donts_of_college_recruiting_/
Coaches Email List - NCAA Division 1 - 2019



2019
NCAA Division 1 College Coach Contact Information
United Soccer Coaches


Bobby Clark - Head Coach at Notre Dame Retires


http://www.und.com/sports/m-soccer/spec-rel/112817aao.html
All of us at our soccer academy wish Head Coach at Notre Dame the very best in his retirement. Meeting Coach Clark, fellow Scot at the Bethesda Tournament in Maryland – 1986 and have been a friend ever since.  A Legend in Scotland as Goalkeeper with Aberdeen FC. and done one amazing job at Dartmouth College, Stanford University and University of Notre Dame.  He has been most successful as a NCAA Division 1 Coach and is a fine ambassador for Collegiate Soccer in the USA sending many players to the Professional game.
More important to me is the person, so special and so much passion for the game and you just always want to be in his company as you learn so much as well as he lights you up and motivates you about the game.  Had one of my Players at Dartmouth in his first recruiting class – Danny Sankar who is most successful for the journey and learning from Coach Clark.  I had the pleasure with our academy to spend a couple of days at Notre Dame with our academy and present him with a plaque for his dedication and commitment to the game.
He certainly will be missed, however we wish him the very best in his retirement with his Wife Bette and his wonderful Family and Grandchildren.
Bobby Graham – Academy Director     

Click on Picture for video


Our Match vs. Philadelphia Union Academy Team


Sunday October 15th – our match vs. Philadelphia Union Academy
Was a great day and match as you can see for yourself, as our academy takes on the Union Academy.
Both teams together after the game on Saturday October 14th (Click on image to enlarge)
Bobby Graham – Academy Director

Click on Picture
https://twitter.com/WinstarsSoccerA
A nice Testimonial by our former Academy player Ethan Vigario – now on Full Scholarship at St. Francis University – Ft. Wayne





Hello, I am Ethan Vigario, a former player of Bobby Graham. What I have to say is straight forward, easy to comprehend and to the point. If you are looking to get to a college on scholarship and if it is a serious dream / goal of yours then I recommend going nowhere else other than Winstars.
Not only does Bobby and all the coaching staff provide a professional training environment for significant development, but they also treat you like they son. It is a family like no other and definitely stands out from the rest. Bobby likes great footballers, but also great people and that's why you don't see 1000 kids in his academy, you only see. Around 40. This is because to him it isn't about the money, he cares about you and your future.
I hope you end up taking up this opportunity, regardless of how far or close you live. I traveled 2 hours to get to training and Bobby and the academy made it more than worth it. You can shoot me an email if you have any further questions regarding any of this.

Ethan Vigario.
NCAA DIVISION 1 RANKINGS
http://www.ncaa.com/rankings/soccer-men/d1

WINSTARS SAT WORKSHOP
WHERE: Winstars Academy Office
WHEN: starting after the tour / will be prior to or after our training sessions on Sundays
COST: $500 (1st Time) $350.00 (2nd Time)
SAT Prep Course
Complete SAT Prep Course
Cost per player: $500.00 - (First Time) - $350.00 (2nd Time)
INSTRUCTOR: Dan Sankar (416) 575-6958
CLASS RESOURCES (bring to each class)
SAT Preparatory Book (will advise which book to purchase, not needed for the first class)
Scientific Calculator
Dictionary
Workbook/Paper, Pens, Pencils, Erasers
ABOUT THE SAT: The Scholastic Aptitude Test (SAT) is a standardized test required for admission to all U.S. colleges and universities. The SAT evaluates the student's knowledge in the areas of writing, critical reading and mathematics. The SAT helps universities compare students from different parts of the country and the world with one standardized measure. In addition to the student's school marks, extra-curricular activities and admissions essay, SAT results play a crucial role in the admissions process.
STUDENTS WILL:
* Learn important study techniques and concepts for the three sections of the SAT.
* Learn general study and test preparation skills.
* Do many practice questions and essays and be provided with ongoing evaluation and feedback.
* Do vocabulary building exercises with the purpose of applying these to actual SAT questions.
* Do timed test sections in the areas of critical reading, writing and mathematics
ABOUT THE INSTRUCTOR:
* 20+ years of experience as SAT and High School Mathematics Instructor
* B.A. (Psychology), M.A. (Sports Psychology), M.Ed. (Counselling Psychology)
* Player for Dartmouth College, NCAA Division 1, All-American, All-Ivy


6 Expectations On the Road to Success


When I arrived in Tampa as head coach, I began meeting with the players who lived there, trying to understand from them what needed to be fixed. Although all the issues were relatively minor, they contributed to the team's second class, defeatist, excuse-laden mentality. I began to sell the philosophy that we are responsible for what happens to us, not anyone or anything else. No excuses, no explanations.
At a team meeting, I ran through a laundry list of excuses our players could easily hang a poor season on if they chose to: We have a new coach staff. We have to learn a new system on both offense and defense. We have sub-par facilities. We have a young quarterback. We never get the benefit of the doubt from officials. We might move cities. Those were all great excuses, and we could have used all of them. However, our goal was to win and excuses weren't an option. Have you been using excuses lately? Here are 6 expectations I communicated to my team on the road to success.
1. Be a pro.
2. Act like a champion.
3. Respond to adversity; don't react.
4. Be on time. Being late means either it's not important to you or you can't be relied upon.
5. Execute. Do what you're supposed to do when you're supposed to do it. Not almost. All the way. Not most of the time. All of the time.
6. Take ownership.
Is this how you approach your marriage? Your role as a dad? Your job?  Whatever it takes. No excuses, no explanations.
http://www.allprodad.com/dungy/6-expectations-on-the-road-to-success/
Bobby Clark: Shaping minds, not just professionals, at Notre Dame
https://www.fourfourtwo.com/us/features/bobby-clark-notre-dame-soccer-coaching-legend-ncaa#dASJFO7cXPrwYeoj.99
The Secret by Dani Alves - You really need to read this article
https://www.theplayerstribune.com/dani-alves-juventus-the-secret/?utm_content=bufferdc8f9&utm_medium=social&utm_source=twitter.com&utm_campaign=buffer
How to Improve Stamina for Soccer

Check out all our best drills, gym workouts and articles on how to improve stamina for soccer
https://www.fourfourtwo.com/performance/training/how-improve-stamina-football
Our Goalkeeping Department
Goalkeepers are the most important player in a Team, at our academy we have an excellent Coach Roberto Carranza who specializes and trains our goalkeepers three times a week. We invest much time, effort and finances into our goalkeeping and have had much success in the past with Goalkeepers who went on to the next level.
Past Goalkeepers Coached by Academy Director Bobby Graham
Peter Pappas Philadelphia University and Professional with Philadelphia Kixx
Loukas Papaconstantinou University of Alabama at Birmingham (UAB) Now a Dentist
Jaro Zawislan – Clemson University - Former Head Coach at Cornell University – Men's Team
Thomas Zawislan – Creighton University
David Clemente – University of Alabama at Birmingham (UAB)
Raj Wakhale – Hartwick College
Melford (Junior James) – University of Alabama at Birmingham (UAB)
Robert Marinaro – Clemson University – Now Head Coach of Kent State University (Women's Team)
Rasih Pala – Northern Illinois University
Jay Mason – University of the Incarnate World - Now Head Coach of Cal Poly (Women's Team)
Phillip Cavicchia – Appalachian State University
Chris Skelton – Niagara University
Dennis Kramer – Southern Polytechnic State University
Jamie Englefield – Winthrop University
Domenic Spedaliere – Eckerd University
Spyros Sergiotis – Wilmington University
Adriano Debreau – Western Michigan University
Matthew Zaikos – Urbana University
Zachery Zeke – Adrian University
Jordan Sedhi – Seton Hill University
Christian Brunet – Lewis University
Nicholas Luciani – Culver Stockton University
Karman Saini – Swedish First Division Husqvarna FF
Adidas is now our official Clothing Supplier of our Soccer Academy
Some of the sports apparel each Academy player will receive
WINSTARS ACADEMY SUPPLIER
Student-Athlete NCAA Resources


Links

NCAA Eligibility Center *Formerly known as 'Clearinghouse' and is required for all Division I and Division II athletes
The College Board *SAT Registration, College Search Tool, Scholarship Searching Tool
20 Questions to see where you should go to school

Choosing a college isn't a four-year decision; it's a 40-year decision. From campus to classes, academics to culture, there's a lot to consider. And, often, students don't even know what they want in a college experience. To help your student-athlete better understand their best college match, you can start by asking them the right questions. In this article, we provide 20 questions to gauge academic and cultural fit.
We are not covering questions for determining athletic fit, as that is an entire topic in itself. These questions can help you start a list of potential colleges, and you can add athletic fit to whittle down your choices.
Remember: You're trying to figure out what your student wants in a school, not what you as a parent want for them. A lot of parents will frame questions by giving an obvious bias to one answer. For example, "Do you want to just be another number in a class with 500 kids in it?" Instead, phrase questions so your student-athlete can share what they really think.
It might be tempting to try grinding through all 20 questions at once. But, you'll likely get a lot of eye rolls and, "Ugh, I don't know!" responses. Instead, ask a couple questions at a time and keep track of the answers in a notebook. That way, you can refer back when you need to.
Ask these 20 questions to see where your student should go to school.
Academics. To parents, academics may be the most important aspect of determining best college match. For high school students, academics may be the first thing they push to the side. These questions help narrow down schools where your student would thrive academically.
1. What do you want to major in?
2. Would you be willing to adjust your major?
3. Do you want to be taught by full-time professors or graduate students?
4. Which type of classes do you prefer: lecture style or discussion style?
5. Will your major require an internship?
6. Do you want to take classes that interest you or would you like to stick to your major?
7. Is the prestige/reputation of the college important to you?
8. Do you fulfill the academic requirements to be accepted?
Culture. When students go to college, most of them will be living on their own for the first time. They need to feel at home in their university, surrounded by students who they can connect with. Campus culture refers to the type of students at the campus, the location, physical attributes of the campus and what stands out in the student body.
9. Are you more interested in a social campus, a commuter campus (where students tend to go home on the weekends) or a quiet campus?
10. How far away from home would you like to be?
11. Would you prefer to go to a school where you already know a lot of people?
12. What are your weather-related deal breakers?
13. Do need a lot of green space?
14. Do you prefer to be in a large city?
15. Would you like a religious university?
16. What kinds of extracurricular or social activities are you interested in?
17. Do you want to be surrounded by people who share your viewpoint?
18. Do you want a diverse environment?
19. Do you like seeing people you know around campus every day?
20. What specific experiences do you want to have in college (e.g., studying abroad)?
Bonus: 5 financial questions for parents
College is a huge investment. As a parent, you need to be realistic about what colleges are feasible from a financial standpoint. Ask yourself these questions to make sure you—and your student—know where things stand financially.
1. How much are you willing to pay for college and how much responsibility will fall on your student?
2. Does your student qualify for any scholarships or financial aid?
3. Will your student be supporting themselves while at college? Is the college town's cost of living realistic?
4. Will your student need to participate in a work-study program or similar arrangement to help cover the cost of tuition?
5. Are you and/or your student willing to take out college loans? How much?


How to be a Professional Footballer


Testimonial from Barry Gorman, Former Technical Director, FC Dallas and Penn State University Coach
Bobby Graham is, without doubt, one of the foremost pre-eminent youth soccer ambassadors Ontario has produced. His commitment to the development of youth soccer in Canada is second to none. I can think of no one, in America or Canada, who has assisted more players in progressing to the Collegiate and Professional ranks.
For over 25 years, Bobby Graham has provided numerous, incredible opportunities for countless Canadian youngsters to showcase their talents at the best soccer events throughout the USA. The sheer number of former players who can trace their academic-athletic opportunities back to Bobby Graham run organizations is testimony to the man's "Midas" touch. The truly remarkable success rate his programs have achieved throughout the years, both on and off the field, is an indication of the excellent high standards he expects, creates and maintains.
The Winstars Soccer Academy is an outgrowth of that desire for excellence. It is a professionally run organization where it is clearly evident, "they are on the right track and have 'bottled' something special." On the coaching side, they are extremely well organized while constantly preparing and coaching players in a meaningful, competitive environment. On the academic side they are, in my mind, the leading source for soccer scholarship information and advice in Canada.
In my former role, as the Head Coach of Penn State University Men's Soccer Program for 22 years, I got to know Bobby Graham very well and am delighted to count on him as a valued and trusted friend. We share a similar vision of the "beautiful game," but more importantly, a strong core value in how best to monitor the growth and development of aspiring young soccer players.
Without question, I would recommend the Winstars Soccer Academy to any serious student-athletes and their parents as a worthwhile, positive career/life changing investment. I look forward to continuing to stay in touch with Bobby Graham and enhancing my professional relationship with the Winstars Soccer Academy.
Barry Gorman
Technical Director – FC Dallas
Former Head Coach Men's Soccer – Penn State University


NSCAA Past President
Champions are Made Here - Video
6 FACTS YOUR PLAYER MUST KNOW IF HE WANTS TO BE PRO



http://www.knowhowsoccer.com/6-facts-your-player-must-know-if-he-wants-to-be-pro/
Success doesn't happen as an accident. It is hard work, sacrifice, ups and downs, determination, motivation, but, most of all, love for the game and love doing your job.
Training is a process. It consists several main components:
1. periodization,
2. preparation,
3. organization,
4. dedication,
5. consistency.
All main factors, joined together, create entirety when you're making professionally organized plan with long and short term objectives.
While you're preparing your training program always consider:

CONTINUATION
→ the connection between the sessions – so the transition from one day to another, and one week to another, is gradually developed.

PROGRESSING
→ building up challenges and training loads in coming sessions.

CONTROLLING
→ using these methods you are constantly controlling your players but laying on their effort and making them naturally building up their performance. Each subsequent training is an upgrade to the previous work so it must be proposed on a higher level than the previous one.
Playing the highest level isn't for everybody, and that's what makes it so special. Only the ones who made it know what kind of commitment to soccer training takes to get there. With that in hart, there are few facts your player should have in mind if his dream is to become a pro.
1. THE DIFFERENCE BETWEEN THE AVERAGE AND THE GREAT PLAYER
In the modern game, at any level, soccer training and conditioning is essential. What makes the main difference between the great soccer player from the average one is their ability to do 'that something extra', something special during the match: dribble few players on the run in dying minutes of the game, precisely cross the ball to a teammate who is on the run passing the defender, clear the ball from the opponent in a counterattack action…'that something extra'.
2. YOU CAN NEVER RETURN THE LOST GAME OR THE LOST TRAINING
If you commit yourself, make it count. Keep the consistency and persistence in training, attending every practice without any excuse. There are many factors that can distract you from the training, but you must know that every practice will make you better than before.
3. PLAYER HAS TO BE CAPABLE TO PLAY 10 OR 120 MINUTES
You are training hard to be fit and in your best shape for the match. You must be prepared at any moment coach decides to put you in a team. It can be full match or part of the game. Coach will decide to play you depending on his vision, situation on the pitch, including tactical variation or injuries.
4. TRAININGS ARE HARDER THAN THE MATCH
Many times coaches propose physically demanding practices. The purpose is to be prepared to the last minute of the game playing in high tempo, not losing rhythm or level of performance. Hard work in training is guarantying lightness and ease during the game.
5. WORK HARD DURING PRACTICE AND HAVE FUN DURING THE MATCH
If you did your job well during training, you don't need to worry about the coming game. If you're prepared well, you will be fully focused only on your best performance and team's effort during the game.
Physically fit players are confident, motivated, in control of their potential having variety of options to choose.
6. IF YOU GIVE YOUR MAXIMUM DURING THE GAME, YOU WILL SLEEP CALMLY NO MATTER IF YOU LOSE OR WIN
After every match, player should analyse his own performance and where he stands. What is needed to work on to improve and what should be polished and mastered till the automatism. But one is definite, put your maximum effort because that is what is expected from you. Level of your performance depends on your preparation.
Becoming a good player takes a lot of time, hard work, and practice, especially. Be honest to yourself and set standards you wish to achieve. At the end, the price will be huge. Satisfaction, joy and respect are just a few of them.
→ Preparation prevents poor performance.
Arsene Wenger, How To Build a Footballer


When a manager of the calibre of Arsene Wenger takes time to tell you the key to becoming a truly great player like Cesc Fabregas, you listen. See what the great man had to say on commitment and the desire to improve.
https://www.youtube.com/watch?v=8G8E01bn7J4
Harvard's Ferguson formula for success

http://www.bbc.com/sport/0/football/34356242
SIR ALEX ON THE IMPORTANCE OF DISCIPLINE



Tryouts for our Elite Soccer Academy
We are only interested in very talented players as well as students with good grades and a passion and desire for the game of soccer and also to play soccer at the next level. NCAA Collegiate Soccer. Looking for a few players as we are close to full for the fall and winter season. Only serious student athletes and soccer players communicate.
Showcase our Players at the best events in USA/Canada and Europe
Professional Staff with a proven track record of success both with development and winning
The number 1 Academy in Canada for athletic scholarships at NCAA Universities
Meaningful training in a quality environment / more significant games
Academy Director has now sent over 350 players to the USA on athletic scholarship/unparalleled
Talent ID criteria centered around the players ability to control the ball
Academy Director – Bobby Graham
www.winstarssoccer.com




The Route to a Dream
Harvard
2015 Summer Tour
Checkout our past summer tour –so it will give you an
idea on what we do besides the soccer, we visit the
schools, meet the coaches, tour the campus.




NCAA Division 1 College Coach Contact Information

Click Here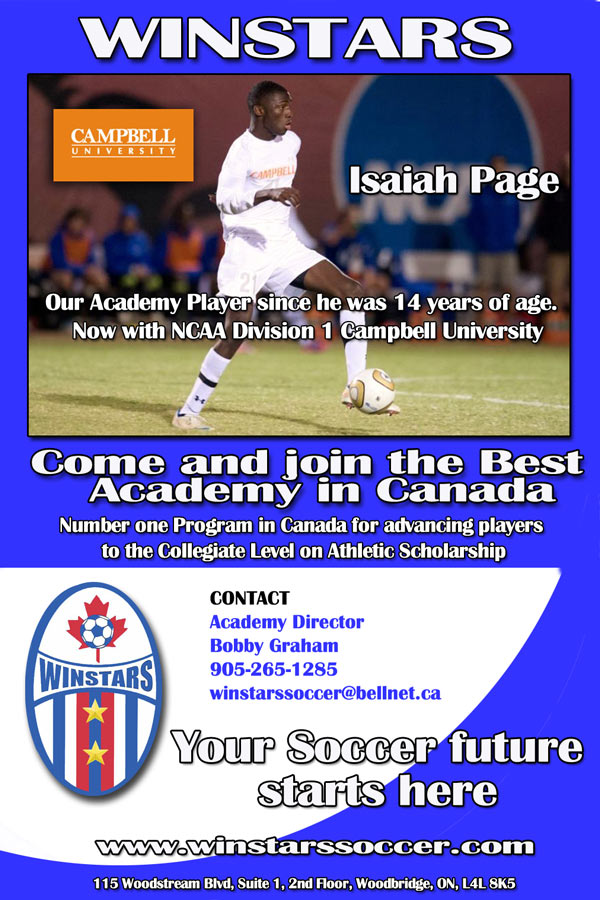 Canadian Dynasty of International Proportions
Article by Nicholas Spiller
Published: August 20, 2014
Most youth soccer players share a common goal as they grow into their late teenage years: They want an opportunity to keep playing the sport in college and beyond! While numerous soccer teams and programs are aimed at helping players achieve those dreams, few organizations consistently get their players to live that goal.
Hardly any places in Canada develop players as well as the Winstars Soccer Academy, which has successfully placed over 300 players into colleges across Canada and the U.S. There, they have been able to learn the game and receive a great education as well.
The Winstars Soccer Academy is led by the brilliant soccer mind of Bobby Graham, who has over 30 years of coaching experience in the sport. The focus of his program is geared toward helping players learn the technical skills required to play soccer at the highest level. While most teams focus on athleticism and running, Winstars understands the importance of working well on the ball and as a team.
The Academy also harnesses a relatively hands-off approach to gameplay. Bringing in the right group of players is key, and with this mindset players are given freedom to play and have the trust of coaches to best utilize their skills.
Additionally, Winstars Soccer Academy benefits from being the most successful and proven club in Ontario for several decades. Coaches across North America are familiar with the team and these relationships are very beneficial to aiding young players in the recruitment process for college teams. The team takes part in many travel excursions for prestigious tournaments or to various colleges. A current tour in August 2014 will see the squad visit universities like Princeton, the University of Pennsylvania, and James Madison University.
The Winstars has been the most successful Canadian Club program ever to compete at the prestigious Dallas Cup. Bobby Graham teams have competed in the Super Group for many years, playing against the likes of AC Milan, Boca Juniors, Tottenham Hotspurs, Moscow Dynamo, Benfica and International of Brazil as well as the best the USA had to offer, Dallas Texans, Chicago Magic, etc.
Additionally, numerous college scouts and coaches love to attend tournaments like the 10th annual Collegiate Boys Showcase, set to be held this December. Such exposure gives players every opportunity to catch the eye of a specific college coach or recruiter. But at its core, the reason such chances come about is due to the competitiveness and quality of the Winstars Soccer Academy, which prepares players for college and professional soccer like no other club in Canada.
While hundreds of players have earned placements to various colleges, some have even been able to play soccer professionally! One such player is Dejan Jakovic, who not only featured for UAB, but also went on to star as a defender for D.C. United and currently plays abroad in the J-League. Dejan was one of 20 players from Bobby Graham teams that went on to play for Head Coach Mike Getman at UAB, and they have been a top 25 NCAA Division 1 program for many years.
As stated by Barry Gorman, former Penn State head coach and technical director of FC Dallas, "Without question, I would recommend the Winstars Soccer Academy to any serious student-athletes and their parents as a worthwhile, positive/life changing investment."
Winstars Soccer Academy isn't just another soccer club to play during your teenage years; it is a vessel to propel your future as a soccer player! Available to boys aged 12-18, this is Canada's finest youth soccer program and gets players opportunities to continue the sport in college year after year!
See article
Daniel Festa
Daniel Festa, a past Winstars Academy player, has recently Graduated in Economics and Finance, from Manhattan College, in Riverdale, New York! Keep up the Great Work Daniel!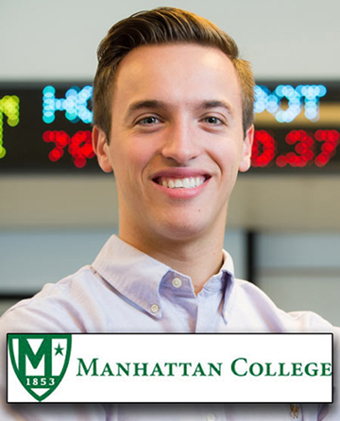 Our News section is constantly changing! We work hard behind the scenes to create as many opportunities as possible for our players.